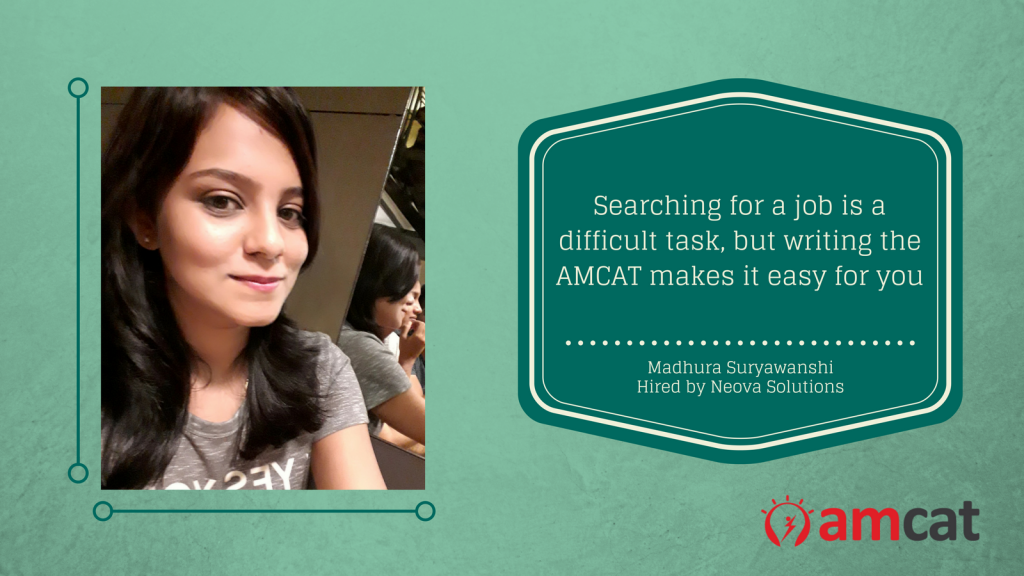 A computer science engineer, Madhura Suryawanshi was very clear on what she wanted when she had begun on her own job search journey. The 2017 graduate of Dr JJ Magdum College of Engineering shares how she had opted for the skill assessment test because she did not want to face any major difficulties.
"I took the AMCAT test in the third year of my engineering degree. It helped a lot as I got placed in Neove Solutions."
Madhura had gone in for the AMCAT Test a year ahead of her graduation. Based on her experience she calls the test a composite, which allows a candidate to be evaluated on everything – from your personality to your skills, as judged by an aptitude test.
And how did it fare for her?
"I got my first call after two months and got a total number of three interview calls."
The crucial call came for an important IT job with Neova Solutions, a Pune-based company involved with software and solution development across multiple platforms. We asked Madhura, about the interview process at the company.
"The interview process was quite good and smooth. There was a technical interview based on Java. As I have prepared everything in Core Java, starting from the very basics – everything worked out to be fine for me at the interview."
Would she recommend the AMCAT to others?
"Yes Definitely. Searching for jobs is a very difficult task but writing the AMCAT makes it easy for you to get a job, instead of roaming and searching for jobs and settling for a low profile."
She also had some tips to share with other job seekers on their own job search journeys.
"Start practising aptitude segments and brush up your basics. The AMCAT tests on the basics and if you are a software engineer, get command over one of the programming languages."
Thanks Madhura, for sharing your inputs! You've helped many by sharing your AMCAT Test experience. If her words have piqued your interest, then we would suggest reading up on more AMCAT experiences in our section 'Achiever's Diaries'. You can also consider scheduling an AMCAT Test here.