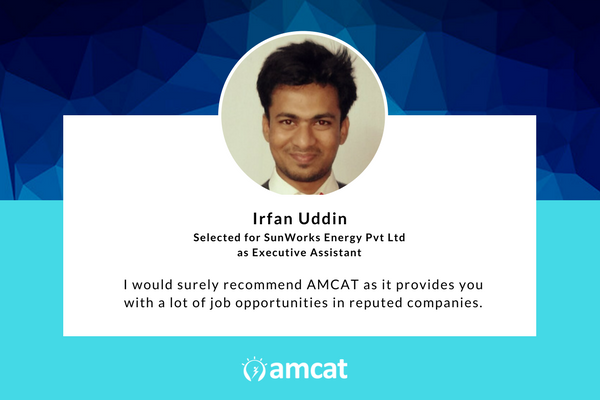 BTech Graduate Irfan Uddin was looking for decent profiles before coming to the AMCAT Test. Now, as he readies for his job in SunWorks Energy, we asked him to look back and explain his AMCAT experience story. We bring you this story as the achiever diary for the day.
"AMCAT was successful in providing tremendous opportunities in reputed companies with decent profiles, so I opted for it."
Irfan Uddin found such a profile in his current job in SunWorks Energy, a company he has joined in a fresher job (Executive Assistant). A 2017 graduate of the Institute of Aeronautical Engineering, Irfan had taken the test, looking for opportunities. Clearing the AMCAT Test with adequate preparation and ease, he talks about what he learned over the test and interview rounds.
"The test went quite good and provided me with a lot number of interview opportunities."
How many opportunities Irfan? He counts 6 interview calls after he received his AMCAT score. And then he received the call for the job in SunWorks Energy.
How was the interview process at this company?
The interview process at the company was quite good. The interview process had 6 rounds, starting from the written and technical round and followed by 4 HR and finally a Director Interview round. All went pretty good and smooth.
Would Irfan recommend the AMCAT to others?
"Yes, I would surely recommend AMCAT to others as it provides you a lot of job opportunities in reputed companies."
Any major tips for job seekers, that could help them in getting a good job?
Irfan urged job seekers to go the interview well-prepared and showcase their communication skills.
Brush up your basics and revise them. Don't go blindfolded for the interview.
He also urged aspirants looking for fresher jobs to try to gain knowledge about the company, its working and its employees.
Congratulations Irfan on your job in SunWorks Energy! We hope that your story serves as a good testimonial for other considering scheduling an AMCAT Test today.