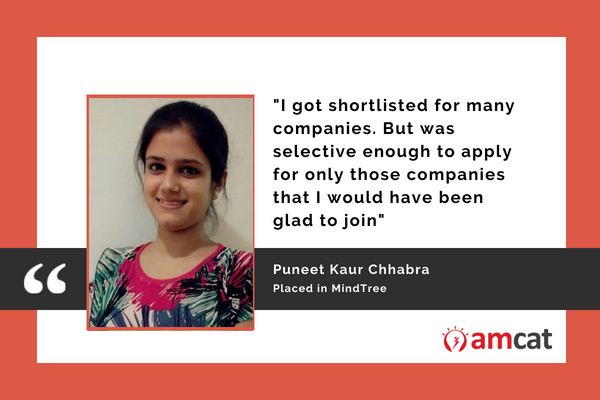 We often see people enquire about how effective the AMCAT exam is? What are the job options available after giving AMCAT?
To answer these questions, we got in touch with Puneet Kaur Chhabra – a Mindtree hire to see what is her take on the AMCAT exam, and how it helped her land her dream job.
Tell us something about yourself
"I completed my BE in Information Technology. I wanted a software developer job in which I could learn new technologies and get exposure to various challenging projects."
Why did you opt for the AMCAT test?
"AMCAT is a superb platform for applying to various companies. It checks our overall aptitude, reasoning and technical knowledge too."
How was the AMCAT test experience?
"It was very good, mainly because it was so well-managed and the questions were of varying difficulty level."
How many calls did you receive after giving the AMCAT exam?
"I was one of the AMCAT toppers. So, I got shortlisted for many companies. But I was selective enough to apply only to those in which I would have been glad to join."

"I got my dream job at Mindtree through AMCAT."
How was the interview process at the company? How did you prepare for the interview?
"The first round was a coding round conducted on the AMCAT platform only. The second was a technical interview, which checked the technical background of the candidates based on their resume and engineering subjects such as Data Structures and Computer Networks. The third was the HR round."

"I prepared for the interview by revising all the important engineering subjects and technology basics."

"Every round was an elimination round. So, it was quite hard to get through that. But when there's a will, there's a way!"
Would you recommend the AMCAT to others? If yes, Why?
"Amcat is a great platform for both freshers and for those who need a switch."

"The test is not that tough to crack if your basics are clear. Other platforms which I have seen don't allow equal opportunities for Non-IIT or NIIT students. But with AMCAT, you will not face this problem. And, I think that is the best thing about the AMCAT exam."

"Go for it, I bet you won't regret it."
Please share a few preparation tips for other job seekers so they too can bag a good job?
"The technical interview is the trickiest part of any interview process. So, one should work hard for this one and always maintain a calm and gentle smile on your face. Understand the questions being asked and try to relate them to what you already know."

"You cannot clear an interview with mere luck. Hard work and persistence is needed to take you forward."
We are super-glad that Puneet Kaur Chhabra had such a brilliant experience with AMCAT, and we do agree with her words, that you need hard work and persistence to take you forward. Whether it be job interviews or any exam, persistence is the key.
For more such inspiring AMCAT stories, stay tuned to our AMCAT blog.