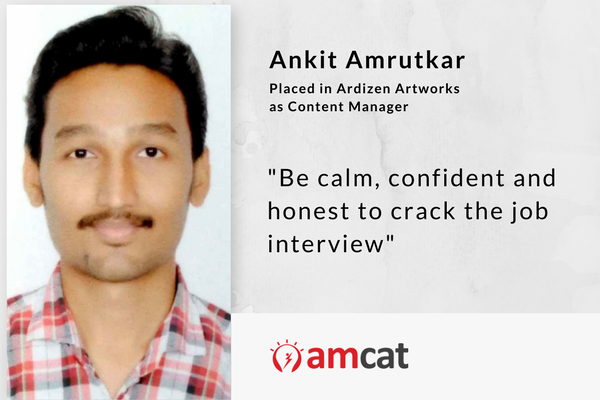 It is always encouraging to hear the success stories of the numerous AMCAT Test takers. These stories encourage us to continue with the good work and remind us how we are making a difference in the lives of so many students. Today, we are here with the success story of Ankit Amrutkar – a Mechanical student from Rajarshi Shahu College of Engineering.
Why the AMCAT Test
We asked Anrutkar why he opted for the AMCAT, and his answer was pretty straightforward and simple
"I took the AMCAT test to get interview opportunity from various companies. This test not only got me that but also helped me prepare the aptitude questions needed to crack the test of other companies."
Ankit Amrutkar who believes that the "test experience was really awesome" was all praises for it and gushed about how the AMCAT assessed his skills and personality and probed his aptitude.
How about the interviews after giving the AMCAT Test
"I got my first interview call 1 month after giving the AMCAT Test" – says Ankit Amrutkar.
On being asked on how he prepared for the job interviews, he said
"I prepared for my job interview by reviewing the company's details and their current project. I was prepared and confident during my interview and the interview went well. My first interview experience was quite awesome."
Any advice for other candidates
"Prepare for aptitude section well and learn about all technical topics for high AMCAT score and during interviews be calm, be honest and confident. These things can help you crack the job interview."
Ankit Amrutkar who got hired as a Content Manager by Ardizen Artworks feels that everyone should take the AMCAT Test to avail the numerous job opportunities, and we couldn't agree with him more.
Like Ankit, you too can write your success story by scheduling the AMCAT test, TODAY!