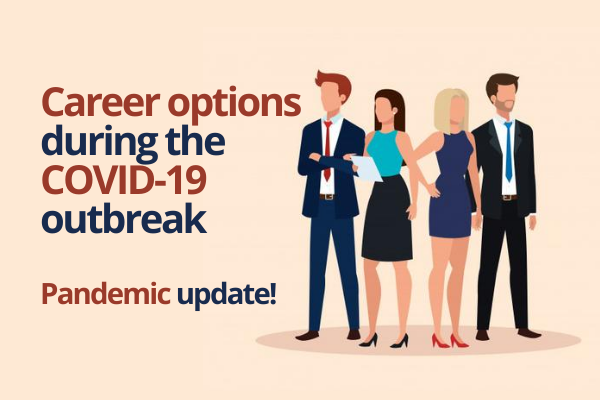 With everything coming to a standstill due to the COVID-19 pandemic, finding your dream job has become a challenging task, especially for 2020 graduates. But are there really no job opportunities for freshers? We beg to differ.
During the lockdown, AMCAT alone placed more than 100 candidates in companies like Compass, EY and Zoho. So, it would be wrong to say that there aren't any job opportunities available for you.
In order to make your job search easier and more successful, here are top IT and non-IT job opportunities for you.
Non-IT Job Opportunities
There are a lot of non-IT job profiles that are in demand. And, to apply to some of the top exclusive job opportunities, you should check-out the AMCAT job portal.
So, hone your skillsets while staying at home and apply to one of these top job profiles.
Marketing Executive
The role of a Marketing executive includes creative, analytical, commercial and administrative responsibilities. As an executive, you are likely to work closely with other team members in domains such as advertising, production, sales and distribution.
Companies are looking to expand their customer base and for that, they need to gain the attention of their target audience. So, if you are someone who has a knack for understanding the demand of the target audience, creative thought process and has the ability to make an effective marketing plan, then it is the right job for you.
In fact, the demand for job profiles like Marketing Executive/Digital Marketing Executive, Marketing Associate, Social Media Marketing and Email Marketing are rising due to the coronavirus pandemic.
Talent Acquisition Executive
The responsibility of an HR executive includes directing and overseeing hiring, training, and leave processes while administering and monitoring benefit programs.
To succeed in this field of work, you need to be analytical, problem solver, honest, ethical and dependable. It is one of the topmost in-demand job profiles and is expected to be in demand in the near future.
SEO Specialist
The responsibility of an SEO Specialist is to analyse, review and implement changes to the companies' website to make them optimized for search engines. Through these implementations, maximum traffic will move towards your website.
For this job opportunity, you must be a problem solver and decision-maker, with the skills to develop engaging content. Moreover, you should have the ability to keep up with ever-changing google guidelines related to page ranking will come handy.
Content Writer
Due to more people staying at home, the consumption of content both online and offline has increased. This has led to an increase in the demand of content writers. To thrive in this field of work, you should have excellent command over the language and the ability to connect with the target audience.
In addition to that, having a basic knowledge of SEO and SME can give you an edge over the other candidates. There are plenty of content marketing certifications available online for you to successfully kickstart your career in this domain.
Moreover, you need to be able to understand the tone of the sentences, tenses and syntax. So, before you start your journey as a content writer, make sure you have a tight grasp over these topics.
Sale Executive
As a Sales executive, your responsibility is to identify new business prospects, converting them in leads and selling goods and services. Moreover, you also need to maintain relationships with new clients and maintain the existing ones.
To work as a sales executive, you should have an understanding of sales and marketing processes, excellent communication skills and the ability to negotiate with clients. Moreover, you must be able to find out business leads and trending services. 
IT Job Opportunities
Just like non-IT jobs, there are plenty of opportunities in the IT field. All you need is the right skills and job readiness to kickstart your career in one of these tech profiles.
Cybersecurity 
Keeping in mind the safety of their employees, many companies have switched to remote working and are trying to improve the security of their digital data.
The nature of tech security is most likely to change amid the COVID-19 outbreak. Before the global pandemic, it was restricted to just antivirus and anti-malware software solutions. However, as more people are operating from home, this will likely increase the demand for security specialists.
Research Engineer
As a Research Engineer, you need to gather information, data and sample to test them and find out the best methods and materials for applications. So, if you are targeting this job profile, then you need to have relevant certifications under your belt.
In addition to that, you need to have great computer skills, communication skills and analytical frame of mind. If you are serious about this job profile, then you should start preparing for it as soon as possible.
Cloud Engineer
Companies are operating on public/hybrid deployment. They are using tools like Microsoft Azure and Google Cloud to upload data to analyse and interpret it.
As a result, many businesses are heavily investing in IT and cloud resources. So, if you have the skills to drive technical architecture and analyse data, then IT jobs in the cloud programming domain is your true calling.
Artificial Intelligence
Artificial Intelligence is going to become an essential part of your job search because companies are taking the help of AI-powered hiring tools. So, it is going to be even more in demand due to the pandemic.
So, if you want to make a mark in AI, then you need to have a strong command over machine learning and computer languages. Take the first step towards your dream job by completing online certifications.
Business Analysts
Companies are using digital channels to become increasingly mainstream across sectors such as education, healthcare, retail and more. This means that the demand for digital profiles is increasing, it is resulting in greater demand for Business Analysts.
So, if you have a knack to develop technical solutions to business problems, advance a company's sales efforts by analyzing and interpreting data, then this IT job is handmade for you.
Now, these are top IT and non-IT job opportunities during the COVID-19 that you should know about. So, don't think about stopping your job search because of COVID-19 because renowned companies are hiring.
Run towards your dream job with these opportunities!
All the best!