Writing a resume with no experience is no less than uncharted territory for freshers. They wonder how to put their best foot forward on that one sheet so that they stand out in front of their future employers.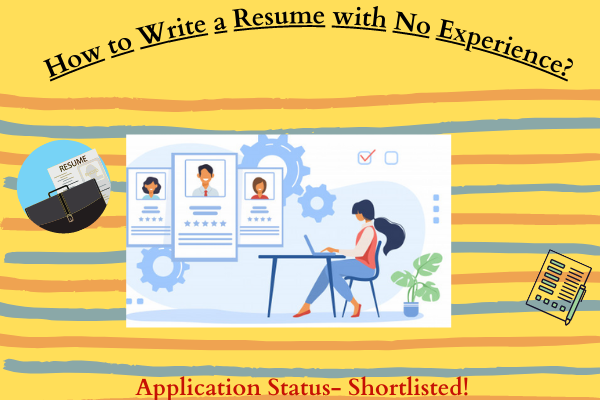 However, without professional experiences, aspiring candidates struggle a bit. They are boggled as to how to showcase their eagerness to learn and above that, their competence.
It is time to address this problem. All these inhibitions have no role to play in front of the recruiter. They don't expect 100% proficiency from a candidate. There are few things that they try to spot to see the eagerness to work for their projects. It is evident in various other ways. For example, the presentation, a few sectional descriptions and more.
So yes, writing a persuasive resume with absolutely no work experience is possible. All you need is the right strategy to present yourself as an effective resource to the company.
Thus, the following is a comprehensive guide of the same. Check below.
How to make an everlasting impact through a resume with no experience?
First of all, it is time to remove certain unrealistic inhibitions that are holding you back. So here is a resolution of the same. Let us see:-
i. No, the employer is not expecting prior experience from freshers. Rather, oft-times, they provide hands-on training to their new players to equip them with on-field skills. So don't worry about the experience part.
ii. Recruiters not just look into your grades but your profiles too. That means, their curiosity lies in knowing your interests, projects and professional goals. Along with that, your career goals and how you are working towards them plays a significant role in deciding your chances of selection.
Upgrade your profile with AMCAT certification. Click Here
Structure of the resume with zero experience
You got to give your resume a structure so that it presents everything clearly without losing the essence. Therefore here is how you can do. At first, divide your resume page into a 1:3 ratio. The left column will comprise your personal information like social media link, website, etcetera.
1. Photo
You can add a photo at the top left column. It creates a personal connection with the recruiter.
2. Description
Add your name along with a catchy tagline of yours. It should not be a long one but just a brief description of your personality.
3. Education
Herein you must add your higher education, senior secondary education and graduation details. Add your grades along with the institution name.
4. Key Skills
It is time to highlight your professional skills. Add your:-
i. Technical skills,
ii. Soft Skills, and more.
5. Addition Courses
In case you have done an online course or any additional certification. Make sure to add that too. Don't forget to add information such as the date of completion.
6. Internship
In case if you have done an internship program, then it is time to share that in brief detail:-
a. Add the internship name (as mentioned in the completion certificate).
b. Mention the date of the program.
c. Now add brief details about the project. You can divide that into three parts:-
i. Agenda,
ii. The skills required in the project and
iii. The outcome.
7. Interests
Now add your hobbies and interests. There is no need to elaborate on it. Just keep it crisp and brief.
Register for AMCAT Resume Buddy for professional assistance. Click Here
Critical stages in a resume with no experience
Kindly ensure that you present give your best through these sections:-
i. Internships,
ii. Projects,
iii. Hobbies and Interests.
These sections can make or break your resume. They can even steer a whole conversation during that important interview round.
Register for AMCAT resume buddy in case you are seeking professional help. Click Here
Now that you know how to write a resume with absolutely zero experience. Go all out and make it happen.
All the best
Get in touch!