Off campus placements may appear to be an obstinate option while looking for a job. However, believing that only on-campus placement will lead one to a decent job may be a microscopic view.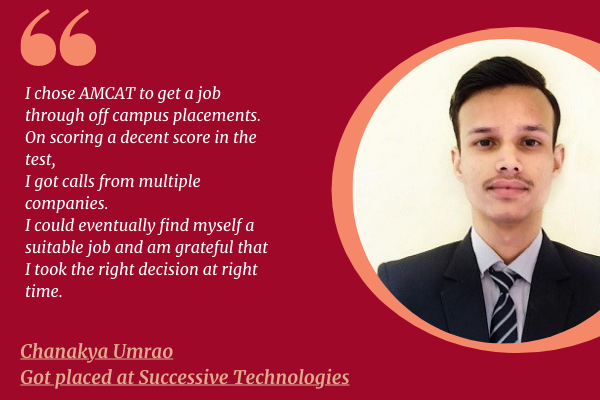 There are many options. Off campus placements, being one of them. All one needs is a medium that can place them well with the right prospects.
Sharing the same story, our candidate Chanakya expresses how with AMCAT's assistance, he got interviews from not just one but numerous companies. He subsequently made it to the job of his choice.
Henceforth, overcoming your curiosity here is the full story of Chanakya Umrao on how he got his first job through off campus placements with AMCAT.
Why did you opt for the AMCAT exam?
"I opted for the AMCAT exam because I couldn't find enough opportunities through on campus placements. And so, I opted for off campus placement through this employability test. I actually, got to know about it through my peers at college. Many of my close ones urged me on taking AMCAT. Later on, did, I realize the reason why they insisted me on doing so as it finally paid off."
"On getting my desired job through the test, I am satisfied that I took the right decision." He added.
Did you face any difficulty while looking for a job during off-campus placements?
"No, I didn't face any difficulty as such while looking for the job. Also, since I have a decent score in the exam, therefore I was shortlisted in many companies. I'd say, Amcat is a very good platform for freshers. If anyone is facing difficulty in getting a job he/she must give a try to the AMCAT exam without a second thought. It will definitely pay off. At least, I can say through my experience."
So which job did you get during off campus placements through AMCAT?
"Based on my AMCAT performance, I got placed as a Trainee Engineer at Successive Technologies. I am looking forward to this opportunity as I am sure it will give me the required hands-on training. "
He added, "I am also happy to share that I got shortlisted for many other companies:-
i. Vinove Software Solutions,
ii. Knowcross, and more. "
We are so happy to know how Chanakya exhibited such a marvellous performance throughout the job selection process. Indeed, he has set a great example of busting the myth around off-campus placements. With the right support, you can surely ace your future.
Register yourself for AMCAT now: Click Here
How did AMCAT feedback report help you in gauging your performance? 
"I think it is a great initiative by AMCAT unlikely seen very often. It showed me the areas where I needed to work. Besides, the report performance pie chart helped in marking where I stood at present along with the scope of improvement. This is where I got to know the areas where hard work was needed. henceforth, I keep working on it and got so many jobs offers as shared. "
Would you recommend AMAT to your peers? If so, why?
"Of course yes. It is quite evident through my results that I would lose no chance in recommending test to anyone who is struggling in finding a job. Also, let's start looking at the wider ways of jobs search. If on campus placement is not working for you, then there are other ways too. So keep striving."
We are inspired by the buoyant spirit of Chanakya. It is truly inspiring. Such an attitude would surely make him a valuable resource in his first company. We wish him all the success in future.
If you wish to book your slot, then check the following details.
Register yourself for AMCAT now: Click Here
All the best
Get in touch