AMCAT exam is India's number 1 employability test. The very testimony of the candidates is the testimony of the credibility of this test.
Therefore, we had a fruitful conversation with our candidate, Daksh Tevathia. He wonderfully described how he made it to his desired job with this assessment.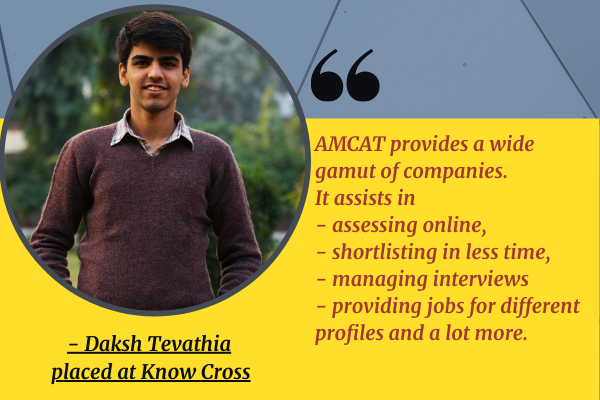 Daksh happened to appreciate the whole process from the job search till getting job offers for multifaceted roles. He is currently placed at Know Cross for his exceptional performance in AMCAT. Daksh acknowledges his success with the unparalleled support of AMCAT. However, it is always a two ways lane. His committed efforts and perseverance throughout the process made it happened.
Interested in knowing his story? Scroll down to find out how he made it.
Why did you opt for the AMCAT exam?
"AMCAT provides you with an opportunity to apply and chose from a wide gamut of companies. It also helps in assessing online, shortlisting in less time, managing interviews and providing offers from companies of various profiles."
Did you face any difficulties with the AMCAT exam?
"I don't recall facing any difficulties. The whole process from registration and taking the test was smooth and convenient."
He adds that other related processes in AMCAT are also pretty simple and straightforward.
We were happy to know that it assisted him well so that all the focus is centered towards his dream job and not on minor issues.
In the next segment, we shall see how Daksh discovered his dream job through AMCAT. Scroll down more.
Tell us about the job you got through the exam.
I got this offer from the company "Know Cross" through AMCAT. I took the AMCAT test and applied to a few companies. Know Cross shortlisted me and I was able to appear for their interview and also recently got an offer letter from them.
What are your views on the AMCAT exam feedback report?
"I really appreciate this effort from AMCAT. The feedback report is exceptional too to maintain the transparency of the job selection process.
The test distinctly tells your score-
i. Aptitude,
ii. English,
iii. Programming (it varies according to the job role applied for)"
He also added how AMCAT recommends matching companies accordingly. It makes the process a whole lot easier. 
Entrusting AMCAT feedback report, Daksh asserted how he himself was able to improve upon so many aspects that were going unnoticed otherwise.
Would you recommend the AMCAT exam? If yes, then why?
With a decisive yes, Daksh expressed, "Of course, I would recommend AMCAT to all my peers looking for a job. It has phenomenally helped me. I am pretty sure. It would work for them as well. "
All the best
Get in touch!