We are pleased to announce that AMCAT Ambition 2021 dates have been extended. We would also like to share that there had been an overwhelming response from your side. Therefore, now it has been decided that the contest will be on till March 31, 2021.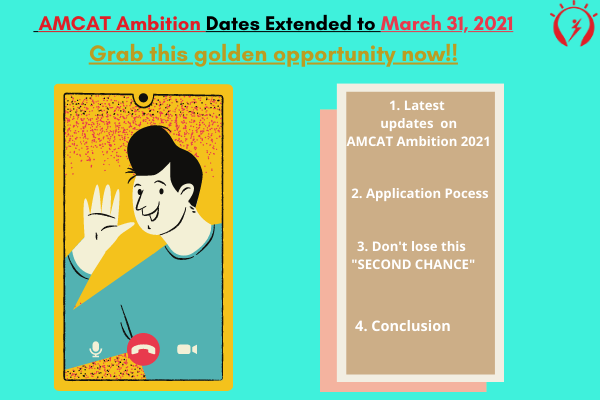 So aspirants still have a chance to shoot their career goals videos and win exciting prizes like a handsome SAMSUNG Tablet, Amazon vouchers and a lot more for it. See, at this juncture, we all have plans and individual definition of success. Therefore, it is imperative to make the best of the opportunities you get in your way. Thus, this prize-winning contest can turn out to be your success milestone.
Chances don't emerge by chance.
You make them work in your favour. 

Thus, here is yet another possibility for you. Register for the AMCAT Ambition 2021 now and upgrade your career aspirations like never before. Let's find out the registration process, latest updates and importance of the contest. Scroll down below to know more.
Latest updates on AMCAT Ambition 2021
Your overwhelming response and here's yet another chance for you to apply. There is an extension of 15 days window towards the AMCAT Ambition contest. You can apply latest by March 31, 2021.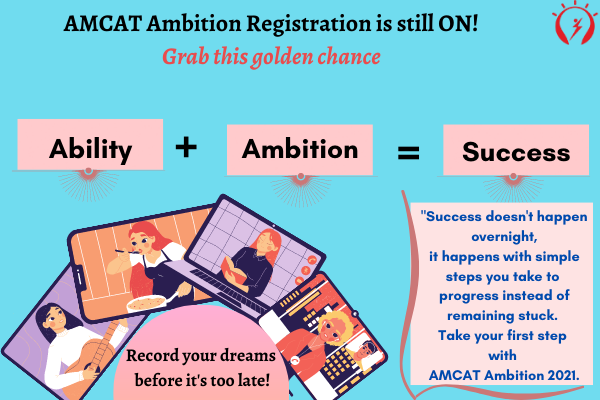 AMCAT  AMBITION Dates Extended! 
How to apply for the AMCAT Ambition 2021?- Grab this golden opportunity now
Now, that you have another chance to apply for the AMCAT Ambition 2021, here is how you can register yourself in a few simple steps:-
1st Step: Visit the official website.
2nd Step: Choose any of the options according to your registration status:-
a. Book AMCAT to Win
b. Already Taken
3rd Step: Henceforth, make the payment accordingly.
Kindly Note. You must go through the eligibility criteria to participate in the contest. These aren't rigid guidelines but simple preconditions to ensure that the processes are conducted smoothly.
Why you must not lose this "second-chance"?

See, this contest can prove to be a launchpad of your dreams. You know why? It is because when you share your dreams with like-minded people or professionals, you build confidence. Unlike those who don't resonate with your plans.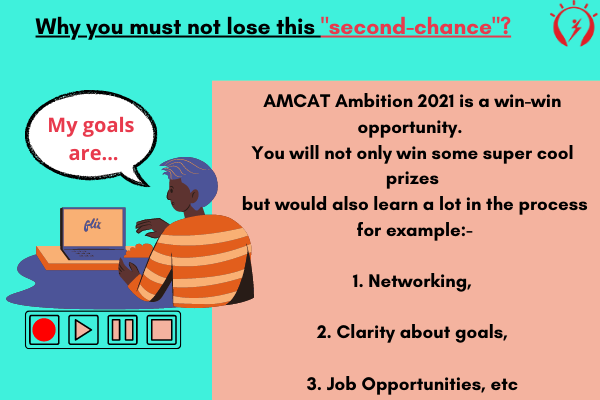 Also, if you happen to win that Samsung Tablet, or other opportunities, you would positively affect your surrounding to support you. Therefore, despite the result, the AMCAT Ambition contest is a win-win situation for you. So without a speck of doubt give it your chance. After all, you will get an enriching opportunity to network, upgrade your profile and learning about yourself above all. Also, with the acknowledgement of those amazing prizes, you will in a way set forth a fulfilling journey of your professional success.
Conclusion
You see, this is a golden window for anyone who had been aspiring to partake in the contest yet somehow could not. Grab this win-win chance to take a leap into your career life. Since you'd take the AMCAT test in the process. Thus, it will eventually help you accelerate your job search.
"Experiences never go wasted. However, remaining stuck and not taking chances will surely be regretful. Therefore, choose learning instead of regrets."
All the best
Stay tuned with www.amcat.com for more such updates related to jobs, career management and a lot more.