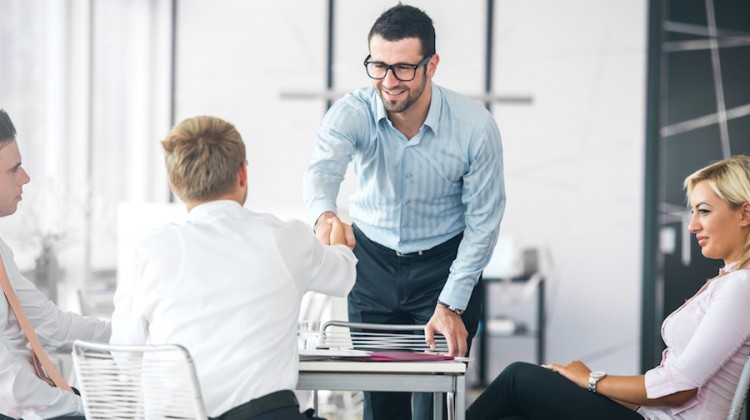 Overwhelmed, anxious, stressful, excited, proud, nervous and inquisitive. Didn't you experience these on the first day of your new job? Do you remember that increased 'pressure to impress' in your mind and how that pressure evaporated after the warm, welcoming and engaging orientation session. So, now as an employer you must try your level best to make the first day of your new hires welcoming, stress free, knowledgeable and engaging. You have just one chance to make a good and everlasting impression on the newbie about the company. This will not only help in employee retention but also result in high employee loyalty and dedication. Isn't that what you need? Here are few tips on making your new hire feel welcome:
1. Make them feel important and acceptable: Show them you have been expecting them. Have their workstation, laptop, computer, phone, stationery and other necessary things arranged before the new hires arrive. Inform the team about their new team members and ask them to be warm and friendly with the new hires. A friendly smile can ease a new employee's nervousness. The new member will feel comfortable and acceptable. They won't get that 'stranger' feeling on their first day.
2. A tour of the office: The new hires might not be knowing where to go and what to do. Start with a tour of the office and facilities, and introduce them to people as you go along. This will help them to feel easy approaching people with questions later.
3. Have a buddy system: The new hires usually have a lot of questions regarding the job, office, facilities, HR policies and many more. So, introduce and assign a buddy to each newbie on the first day to make the process easy and relaxed for them. The buddy can show how things work, go for lunch together, and offer support and guidance whenever needed.
4. Visibility: Increase the visibility of the new hires by asking them to share a small description and picture of them that you can float internally so that people get to know their names, hobbies, experience and in what department they have joined. Instead of handing the newbies an organizational chart with names and titles, give them a collage with photos and some information of the employees they will be working with. This could include photos of supervisors, coworkers, and one or two lines about them. This way it will be easy for the new members to connect.
5. Well-organized human resources: It is the human resources who is responsible for the on-boarding of the new-hires which includes paperwork, induction, documentation and all the other joining formalities. Have everything organized and maintained beforehand. Get the paperwork done as soon as possible(it is really boring!), maybe mail the paperwork before their first day as it will save a lot of time. Disorganized human resources gives a very bad impression about the company. Avoid it as much as possible. The focus should be always on making the employee feel welcome, appreciated, and part of the organization's culture as soon as possible.
6. Ask for feedback: At the end of their first day, ask for a feedback from them. Have a one-one discussion. Talk to them: what did they like? How informative and welcoming was the orientation session? Have they faced any difficulties? Are they aware of the facilities and important places in the office? Is there anything they would like to know? Any ideas they would like to give to improve the on-boarding process? Express a genuine interest in the new employee. Showing that you are concerned and interested about them will surely have a positive impact.
Surviving the'first day' well is the toughest part of any job and we all have felt those 'first day jitters' at some point or the other. So, now it's your turn helping the new member out. Do your best and make the first day of their long journey memorable!
Want to know more? Watch the video below: