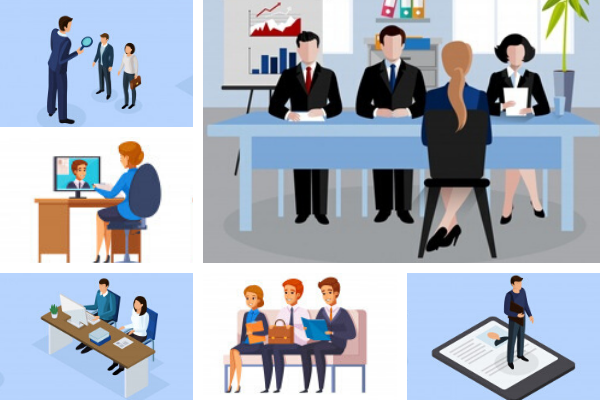 Clearing job interviews are one of the most crucial steps towards your job search journey. Interviews present you with opportunities to show the interviewer that you are the best person for the job role. Throughout the selection process, the recruiter conducts different types of job interviews.
So, to help you take your job hunt to another level, we have going to discuss different types of job interviews and how you can ace them.
Face-to-face Interview
Also known as the traditional job interview, it is one of the most common types of job interviews. In this, you are interviewed by the hiring manager of the company. Moreover, this is usually the last round of the selection process.
The interviewer will try to asses whether you will have the required skills or not. Plus, the recruiter will ask you some common interview questions to better understand you.
Video Interview
A video interview is widely known as the skype interview. This is conducted via video chat on either your phone or on your computer. The recruiter uses this medium to easily connect with potential candidates that are living far from the job location but are ready to relocate.
Software programmes such as Skype, Facetime, Google Hangout and more are easily accessible. Hence, it is better to ask the interviewer about the interview platform beforehand
Phone Interview
A phone interview is usually used as a screening round to filter potential candidates. Although it is shorter than other types of job interviews, it is equally important. Moreover, it might be for a position where the candidate is not a local and the recruiter wants to see whether to call you for an in-person interview or not.
However, you should be prepared for the phone interview to get shortlisted for further interview rounds.
Group Interview
When it comes to group interview, there are two types of group interviews.
In the first type, multiple interviewers meet and interview you together.
In the second type, other candidates with you are interviewed at the same time by a single interviewer.
Group interviews are often more efficient than a one-on-one interview. When sitting for a group interview, you should be well prepared, confident and a good listener.
Behavioural Interview
In a behavioural interview, the recruiter wants to understand your thought process and problem-solving skills when dealing with certain problems
Job interviews come in all formats and styles and as a job seeker, you should know all about them and are prepared for all of them. Moreover, no matter what type of job interview you get, always be prepared to show the interviewer that you are the perfect candidate for the job role.