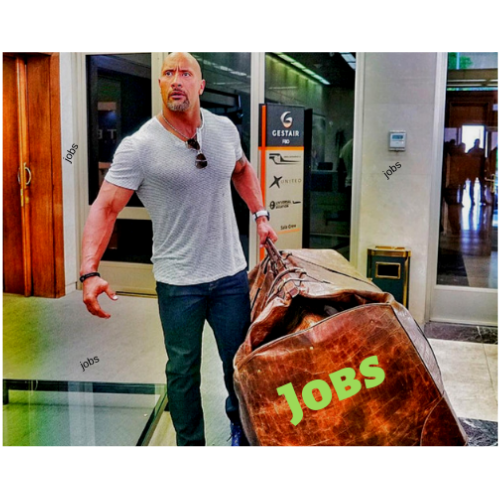 Whether it be winters or summers, there is one season that never goes out of style or fashion is the jobs' season. And, while no warm coats can prepare you for it, there are some tricks that can come in handy and help you ace jobs in 2019.
We have compiled a detailed list of what these tricks are and how you can implement them to make the most of the first half of the year and get closer to the best jobs in 2019.
Craft an outstanding resume
The quality of your job resume matters a lot when it comes to bagging jobs in 2019. Any resume that is anything less than perfect won't really help you stand above the horde of competitors eyeing the same jobs as you. So, you need to ensure that you are leaving no stone unturned and are steering clear of any and all resume mistakes.
A crisp and to-the-point resume is always appreciated by the recruiters and it takes up a lot less space too. Since it is believed that an ideal resume should be no more than one-page long, quantifying information, and including only relevant information, can do the trick.
When composing a job resume, you also need to ensure that you are using the right keywords in appropriate density. Like a keyword density of 0.8-1.2% is considered suitable, anything above or below might not have the same impact on the recruiter.
Another important thing that you need to keep in mind is that you are not making resume mistakes – grammatical errors, using too many different fonts, not having enough white spaces, etc. These mistakes, however silly and small they might seem, can drive a wedge between you and your dream jobs in 2019.
To compose a great job resume, you should pay special attention to the resume template you are using and how you put in all the required information. Of course, taking care of so many aspects of a resume can be a task, especially if it is your first stint at drafting a job resume. So, instead of fretting over it you can opt for a resume-building application like the Resume Buddy.
With the help of Resume Buddy, you can compose great resumes in record time!
Special Offer: Get AMCAT at just Rs.949/-. Use Code BLOG2019 at payment page. Hurry! code valid till 31st March 2019 only. Register Now.
Market yourself right – Cover Letter, LinkedIn
You need to market yourself and come across as an asset if you want to be eligible for the best jobs in 2019. So, that means, that your cover letter and LinkedIn profile should speak the language of the recruiter and talk about what you can bring to the table.
Most companies don't ask for cover letters but you should prepare one just the same. Copy this cover letter directly in the mail body and send it across to the recruiters when you are applying for jobs in 2019.
Your cover letter should focus on your achievements, your victories and how you are working to get better at your craft. It should talk about how you can contribute to the company and be a problem-solver.
Similarly, your LinkedIn profile should reflect your professionalism. If you are unsure about how to proceed with it, then you can always check out the LinkedIn profiles of people you follow or admire. See how they have composed their achievements and experiences and try to imbibe their style.
Getting job ready
One of the most important tricks to bag a winning job in the first half of 2019 is to be job ready. Most people assume that since they have completed their degree and have got good marks, that automatically makes them 'job ready'. However, that is not so and recruiters often complain of not coming across enough employable candidates.
Candidates with experience (internships count) and the right skills-set are considered employable by the recruiters. So, pay attention to the responsibilities and skills-set that your dream job profile asks for, and work on those points.
One of the most effective ways to go about it would be to give the AMCAT exam and earn skills certificates. The AMCAT exam is recognised by a lot of big and small companies across the country and can really up your chances of getting great jobs in 2019. AMCAT tests candidates on the basis of their skills and tells the companies how equipped a candidate is for a job opportunity.
However, to make the best out of the AMCAT exam and to enjoy the best jobs in 2019, you need an enviable AMCAT score. And, to get that, you need to take AMCAT preparation really seriously and bank on preparation tools like the prepAMCAT.
PrepAMCAT allows a candidate to experience the AMCAT test environment and questions and helps them check their readiness for the final test.
Narrow down jobs in 2019
Applying for every job on the numerous jobs portals won't really help you get a good job. So, the trick here is to narrow down the jobs you want in 2019 and the portals you would choose to follow most closely.
Narrowing things down would help you focus more on the kind of jobs you want and how you can prepare for it. You can see the job description of each job you apply for and prepare yourself and your resume accordingly.
This will also up your chances of getting more interview offers for jobs in 2019 and give you the confidence to search harder for that perfect job.
Special Offer: Get AMCAT at just Rs.949/-. Use Code BLOG2019 at payment page. Hurry! code valid till 31st March 2019 only. Register Now.
Job interview 101
Once you start sending out resumes and start applying for jobs, the next step would be to start preparing for the inevitable job interview. While you might want to throw your all in and read everything up before the big interview, a smart trick to go about it is to know what to expect.
Get in touch with someone from the same company and ask them for advice. Or ask the recruiter who got in touch with you for any word of advice on how you can best prepare for the interview and what to expect. If you ask politely, then recruiters will more likely than not guide you on how to prepare better.
Another important trick to remember to excel at job interviews and be bombarded with jobs in 2019, is to read up on the company. The more you know about the company, the better and easier it would be for you to compose your answer during the interview.
You can also look up someone of the common interview questions and answers to get a better understanding of things and to know how to prepare your answers. And, whatever you do, remember to be confident and have a kick-ass body language to make a great impression from the word 'go'.
Of course, to manage all that you would have to practice, A LOT! Practice in front of the mirror, ask your friends to conduct mock interviews or better still, opt for a reliable, in-depth interview conducting application like Mock-AI.
Mock-AI conducts interviews in a simulated environment and gauges your every reaction. At the end of the mock interview, you are provided with detailed feedback and study material on how you can improve your performance.
The trick to getting great jobs in 2019 is to look and analyse every facet of the job search process and prepare well in advance. Whether it be job resumes or building on your skills-set or knowing how to conduct yourself in an interview, you should know how to do it all if you want the best of the best jobs in 2019.
P.S: You can enjoy the benefits of Resume Buddy, PrepAMCAT and Mock-AI at a much-discounted price with AMCAT Premium's three-in-one offer.