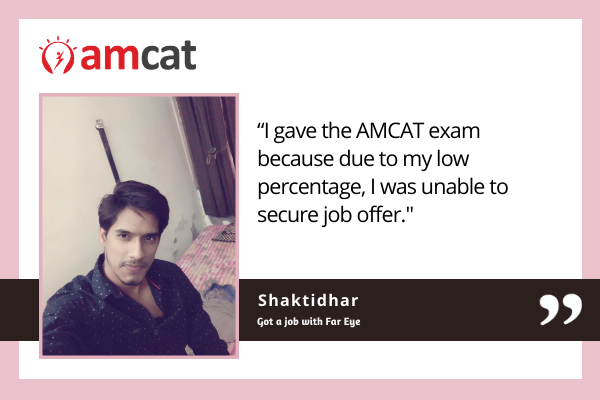 Shaktidhar thought that because of his low percentage he was not be getting a job. But there was another reason as to why he was not getting any interview calls Which he found out after giving the AMCAT exam. And in his pursuit for a better job, he even renewed his AMCAT subscription twice and finally started getting interview calls.
So, let's find out how Shaktidhar even after scoring a low percentage was able to secure a good job.
Why did you opt for the AMCAT exam?
"AMCAT was very popular in my college and I was using it in my college days."
AMCAT was and is still pretty popular among college freshers. One of the main reasons behind it might be the numerous on-campus and off-campus drives conducted by us.
Like in the last year alone AMCAT conducted more than 1650 drives both on-campus and off-campus.
What about the AMCAT feedback report? Was it really helpful?    
"I was not getting many interviews calls maybe because of my low percentage. Hence, I was unable to secure a job offer"
"So, I gave the AMCAT exam and I found out that I was good at aptitude, but was lacking in Computer Programming."
With the help of the AMCAT feedback report, Shaktidhar was able to identify his weaker sections and used the knowledge to improve on them and ultimately get good job opportunities.
Would you recommend the AMCAT exam to others?
"Yes, I would", says Shaktidhar.
"In fact, I have already recommended AMCAT to my juniors."
According to Shaktidhar," AMCAT is very user-friendly and is in your budget. Most importantly, it provides freshers with several job opportunities in companies like MindTree, etc."
Well, we always try to reach a mass audience and make the AMCAT Exam accessible to everyone. Because getting a good job is everyone's right.
Shaktidhar with his hard work and never give up attitude was successful in improving the areas where he lacked and did his very best in securing a job offer with Far Eye. He was able to prove that it takes more than getting a good score in your college to secure a job.
So, go and renew your AMCAT subscription just like Shaktidhar to continue your search for opportunities.
All the best!