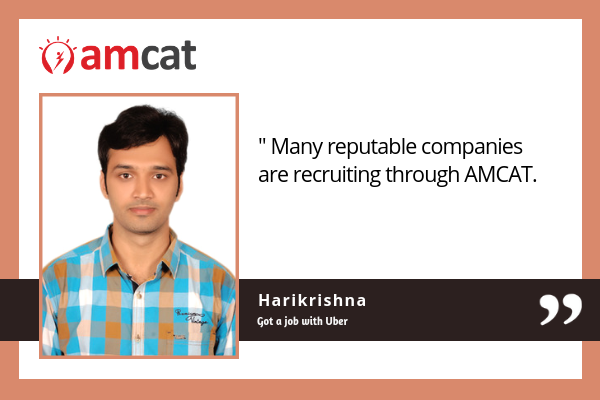 Searching for a job is never an easy thing to do, but what if we tell you that you might get an interview call easier than you thought? AMCAT Exam might not be the magic wand that you want, but it can help you get a job interview call based on your skills-set.
Harikrishna was successful in bagging a job offer with one of the biggest ride-sharing company, UBER. And, in his search for his dream job he even renewed his AMCAT subscription and opted to continue his journey with us.
So, let's find out how Harikrishna came to trust AMCAT and how he was successful in getting his dream job.
Where did you hear about the AMCAT exam? And, why did you opt for the AMCAT exam?
"I heard about the AMCAT exam through a friend".
"Most companies are recruiting through AMCAT and I am fortunate that I got a job with UBER".
It's true. AMCAT created more than 5 lac opportunities just last year. In addition to that, we conducted 1650+ drives last fiscal year (both on-campus and off-campus).
"Renew offers are good. Got one call already", shared Harikrishna.
What about the AMCAT feedback report? Was it helpful for you?
"The feedback report was good. It helped me with my weaker areas."
The 14-page AMCAT feedback report helped Harikrishna introspect on his weaknesses and provided him with a plan for the next step. This, in turn, help him in improving his weaker sections and helped him in developing confidence in his skills and abilities.
Would you recommend the AMCAT exam to others?
"Yes, I will recommend AMCAT", says Harikrishna.
He also adds, "Many MNCs posts many jobs on the AMCAT job portal. It makes it much easier to get job interview calls. AMCAT makes job search a cakewalk."
AMCAT is the tool that makes job search an easy journey just like in the case with Harikrishna. Not only that, many big MNCs recruit through AMCAT and these jobs are exclusive for the AMCAT test takers which will increase your chances of getting your dream job.
So what are you waiting for? Schedule your AMCAT exam right away!