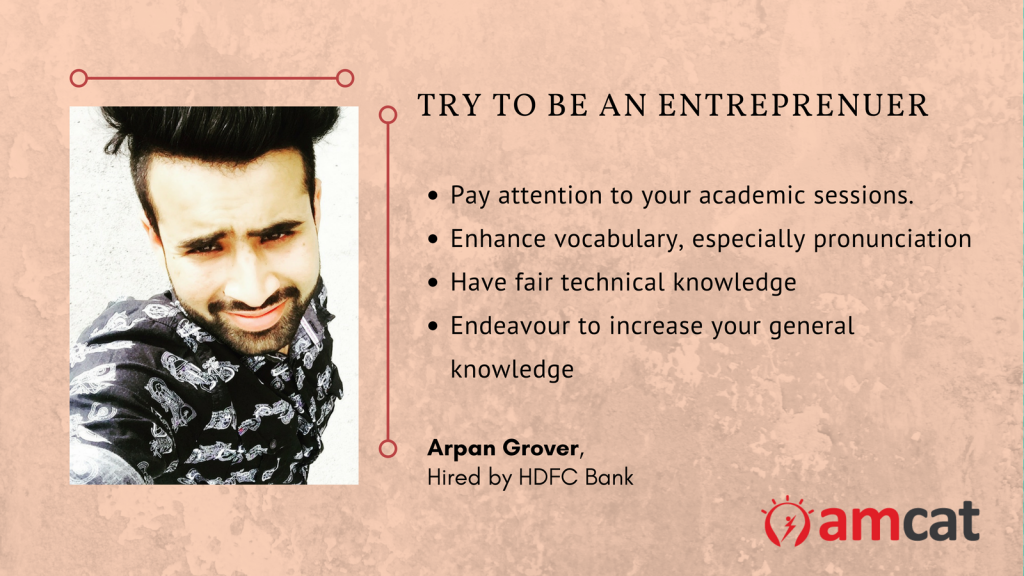 When this 2017 graduate of Graphic Era University appeared for the AMCAT Test at his college, he couldn't have imagined how the aptitude test would connect him to a stable, well-paying banking job – a chance to be a virtual relationship manager; a chance for an HDFC job.
In fact, his life had been about his interests – his passion for food and travel; English dramas, cricket and snooker. All before his college connected him with a campus opportunity of giving a skill assessment test – the AMCAT Test.
"I finally secured a job through AMCAT and Hard work."
Arpan begins his tale by laying down the hard facts – his college helped him by pointing him in the right direction towards this particular job. However, he admits to a brief struggle from this point onward. "For the job, I went through a lot of difficulties. I was finally able to secure it through the AMCAT Test and my hard work."
How was your test experience, the first round of your journey to an HDFC job?
"The AMCAT test was good as it had a good quality of questions with some at a difficult level. My studies, hard work and day to day knowledge, helped me score good on the test."
He received his first job interview call in August. Overall, he received two calls for interviews.
How was the interview process at the company? What helped you through it?
The process was great. With the help of GDPI sessions in the college, I prepared myself for the interview and other selection processes.
Would you recommend the AMCAT to others? If yes, Why?
"Yes, because it provides a great number of opportunities for jobs and that helps to secure a good career."
We also asked him to share some insights which he gained over the entire experience, that may help others in gaining a fresher job that matches with their aspirations.
This is what he shared with us:
Always pay attention in your academic sessions as they are needful for the processes.
Enhance your vocabulary better with good pronunciation skills.
You should have a fair knowledge of both technical rounds and personal interview and try to learn a lot of things from what all is happening around and what all is going on, to gain some command over general knowledge.
Try to be an entrepreneur because anyone having these skills is likely to be a creative, gutsy self-starter, who would think outside the box. That is the kind of person who is more likely to succeed.
Keen on learning more about students who have gone through the AMCAT Test experience? You can catch up on all of the previous AMCAT achievers diaries here.