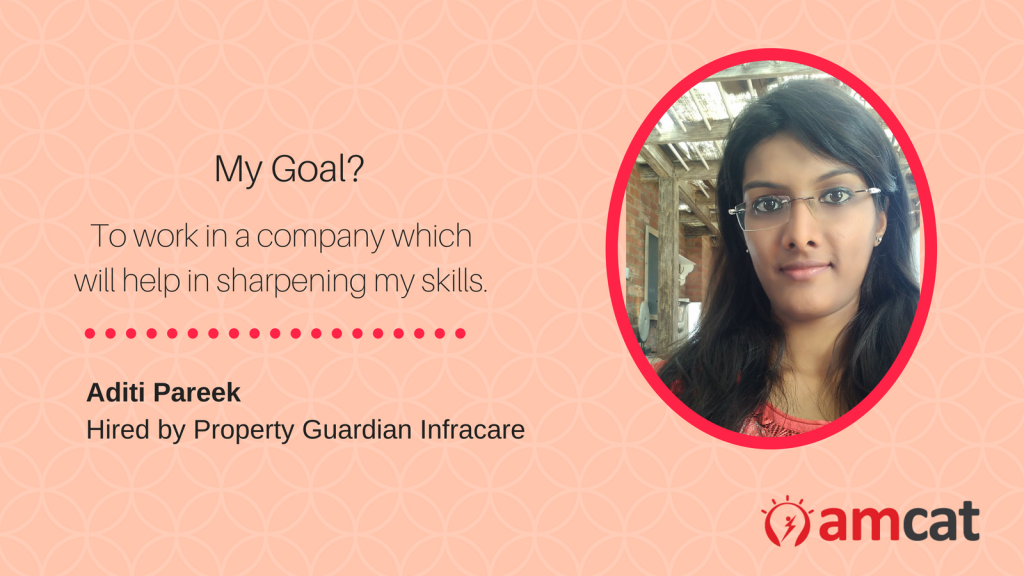 She was determined to work hard – from the very beginning of her career. In fact, Aditi's goal was to work in a company where she could sharpen her skills. And so, her success path did not come as a surprise.
Aditi's AMCAT Journey
Meet Aditi Pareek, one of the few students who was looking for an unconventional, non-engineering fresher job. A B.Tech graduate in 2017 from the SKIT college, this is how Aditi found a fresher job worth Rs 2.5 lakh – Rs 5 lakh.
She had opted for the AMCAT test carefully, considering it a moderate-level exam which led to multiple job offers. And then she prepared for it as well – working for the aptitude tests with online preparation websites like Youth4Work.
"I nailed it", she said simply.
The calls began after nearly 7 weeks. She found an invitation for the job interview at Property Guardian Infracare. The same determination ensured that she sailed through it as well.
Would you recommend the AMCAT to others, we had asked her.
"Yes, because it is the best platform for freshers. Here, one test helps you discover multiple job opportunities."
She also had words on preparation for skill assessment. "Prepare for the aptitude and once you've cleared the aptitude test, you are about 60% to go for that company."
That was Aditi, our latest page from the AMCAT achiever diaries. She is one of the few who used the platform to find a digital marketing job profile, in a non-core engineering or even MNC company. An illustrator of how you can use the platform to seek jobs across all types of companies.
And think, when would you take your own AMCAT test.