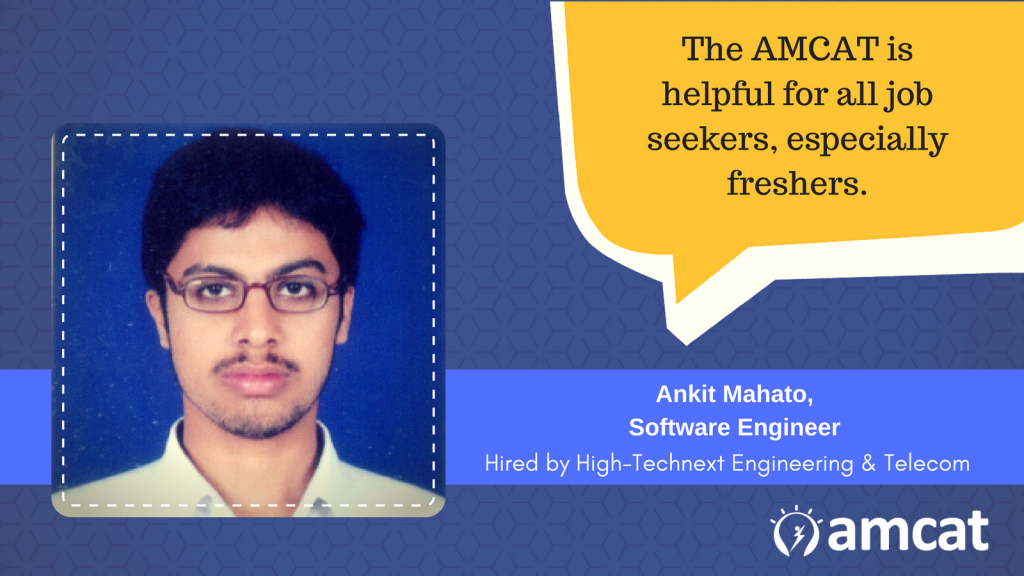 How important is preparing for the AMCAT, ahead of giving the skill assessment? Very! It does make the difference between connecting you with your dream job and an endless wait for good interview calls! Case in point – the job search journey for 2018 graduate Ankit Mahato, who took the AMCAT Test.
Hailing from West Bengal, Mahato has been pursuing his B.Tech from the Neotia Institute of Technology, Management & Science. Armed with a positive attitude, Ankit had opted for the skill assessment before his graduation and had gone for it with full preparation. This is what he has to say about his AMCAT Test experience.
"My AMCAT experience was quite good. I was tested on my skills, aptitude and personality."
Mahato did this through a good first step – he updated his technical skills, enhanced them and practised a lot of aptitude questions.
After giving the AMCAT Test, he had to wait for nearly a month before he received his first interview call.
"My first interview was a pleasant experience for me."
In total, Ankit has received three job interview calls till now – including the one High-Technext Engineering & Telecom.
We asked him about the interview process for the company. Calling it an awesome experience, he said, "I was prepared and confident during my interview. The interview went well and I answered almost all question with a smile."
In the end, he recommends the AMCAT Test for all job seekers, especially freshers. He also asks everyone to remain confident about the skills they possess.
Congratulations, Ankit! We hope you had a great start with your fresher job as a software engineer with High-Technext. We also hope that your story helps others take a call about taking the skill assessment for themselves.
If that is you, we recommend going through this and other AMCAT success stories. And then schedule an AMCAT for yourself.