Justifying a gap year is one of the most common concerns of job seekers. There has been an implicit dread around questions relating to it.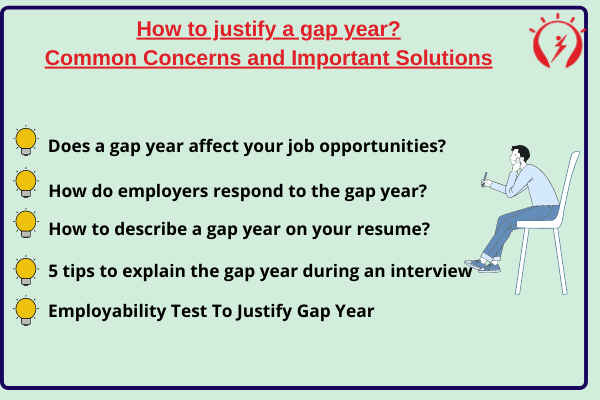 However, it is high time that we normalize taking gap years. Also, recruiters do not mind it if the reason is genuine. After all, one's professional journey is not a linear line. Rather it is full of intersections and skewness.  Someone may feel like taking some time off due to a health issue or just personal shortcomings. The reasons may be endless. But if it is justified well, then a gap year will not be a question of fear anymore. Therefore, here is a comprehensive insight into this topic. Scroll down below to know more.
Does a gap year affect your job opportunities?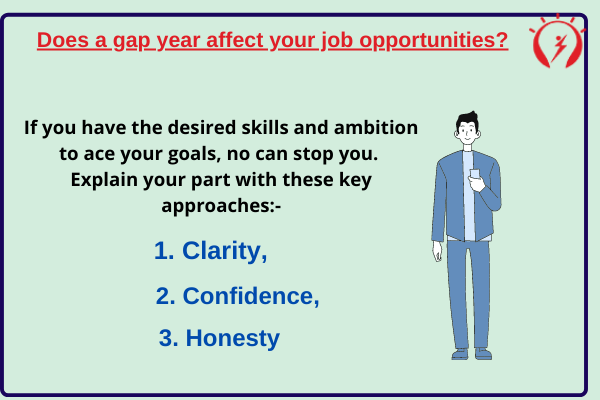 See, this is a subjective query. While it may be justified in some situation and yet may backfire in others. One thing is for sure that time off doesn't limit your job opportunities but your inability to clarify it does.
If you have the desired skills and ambition to ace your goals, no one can stop you. These words are not just said for mere namesake. Rather, they hold a deeper and practical significance to it. People face many events during their professional journey. Sometimes things are not under anyone's control. While sometimes you may feel like taking a break to recharge and restart with a fresh perspective. All of these are genuine reasons. But it may appear casual or frivolous on your part if not presented well. Therefore, you need to explain the long leave with clarity, honesty and confidence.
How do employers respond to the gap year?
This is yet again one of the most common concerns for those who have taken a gap year. There is rather a horror around the notion as to how a recruiter will respond to a sabbatical.  The truth is they respond differently in every situation.
If your answer is convincing then it will not be a problem at all. It may turn out to be an issue if your answer lacks the required credibility. Therefore, you need to understand the psychology behind it before dreading that recruiter.
They are simply wanting to know you better. An examiner only sees if you are a perfect fit for the role or not. Your competence will describe your selection chances irrespective of a gap year or not.
How to describe a gap year on your resume?
Before describing a gap year one may wonder," Is a gap year on resume bad at all?" So here are important tips to explain a sabbatical/long leave during Job interviews.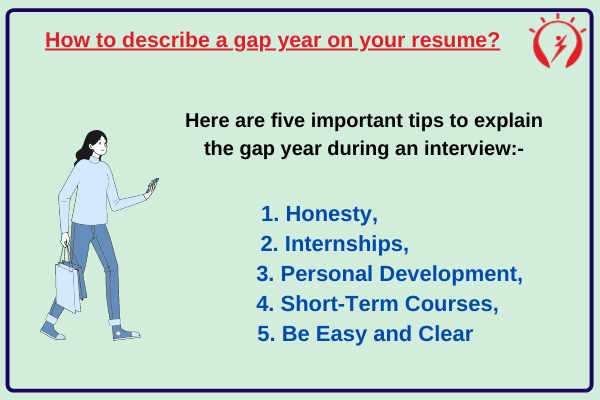 5 tips to explain the gap year during an interview
Here are a few important tips to present yourself during a job interview:-
i. Honesty: An employer is an experienced professional. Hence, never think of dortching a recruiter into believing something untrue. There is no replacement for honesty. You can open up about your limitations as well. 90% of the times, employers understand.
ii. Internships or Part-Time Projects: Taking some time off to learn new skills by interning is an effective way to describe your reasons for a gap year. Hence, it will form a responsible impression on the recruiter because everyone wishes to upskill and keep up with the market standard. You can talk about your part-time projects which gave you the time for self-care and upskilling.
iii. Personal Development: There may be times when you just want to focus on your personal growth. It may have nothing to do with a job or a skill. And it is alright. Everyone has different capabilities and capacities. Taking a sabbatical is a wise decision if you feel burnout. Tell about your challenges to the recruiter. Also, reflect upon your coping mechanism as well.
iv. Short-Term Courses:  Spending time on short-term courses or an online program can land you a great job instead. It acts like accreditation of your skills. Also, it adds value to get better roles and jobs. In this way, recruiters will also understand your choice to upgrade and grow.
v. Be Easy and Clear: Treat the gap year questions like any other interview question. The examiner will understand your part when you are easy and clear while justifying your situation. Overthinking may lead to a chaotic answer and an unpleasant outcome.
Employability Test To Justify Gap Year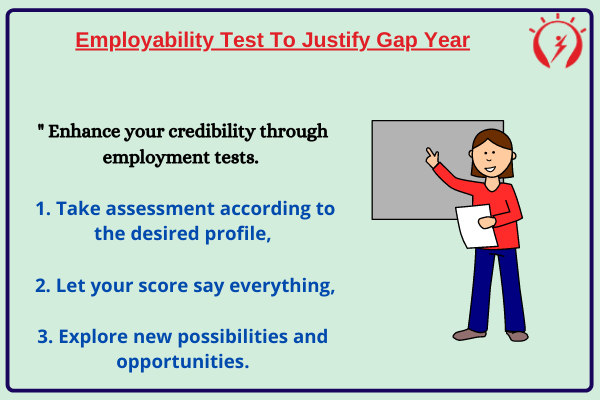 You can take an employability examination. These assessments act like an evident testimony of your abilities. Numbers of recruiters accept employability test scores to ease out their selection process. AMCAT examination is one such test that lets you apply for your desired job by taking well-curated assessments for the respective roles.  In this way, you will be shortlisted for the desired profiles according to your competence.
Book you AMCAT Slot here: Click Here
You can prepare yourself for that important interview as well by gaining expert advice. AMCAT Mock AI is modern-day interview solutions.
Take expert review from AMCAT Mock AI: Click Here 
It assesses your performance intricately. This tool tests your body language and answers. In this way, you are rated according to your performance. Thus, you will get deeper insights into your strengths and mistakes which will help you give your best on D-Day.
All the best!