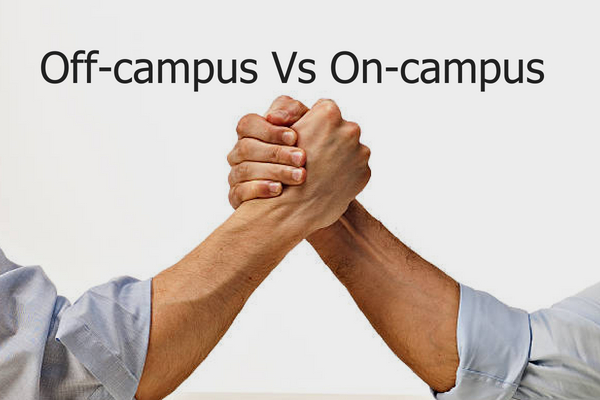 The ultimate goal of a college student is to land a job by the end of the final year of college. Most colleges in India offer campus placement drives that allow reputed companies to recruit crème-de-la-crème students while they are still in college.
If you somehow didn't score a job through on-campus placement drive, you can definitely look out for jobs off campus. But, do you know which is better – Off-campus vs on campus?
During on-campus placements drive, students appear for 3-4 rounds of interview in college before being recruited whereas, in off-campus placements, the students go job hunting from one company to another in search of the right opportunity.
Both on campus and off campus placements have their pros and cons; it is up to your calibre to leverage the right opportunity to land the best campus job for yourself.
So, we have broken down the off-campus vs on-campus debate to help you understand which way you should bend.
Off-campus Placements Vs On-Campus Placements
On campus placement
In the off-campus vs on-campus debate, we have to admit that campus placements have their own charm in college. Every student wishes to be the first one with a secure job amongst his/her batchmates. It is a matter of pride for every college student to score a decent job through on-campus placement procedure.
Campus placements are all about numerous rounds involving group discussion, aptitude test and personal interview etc which aren't easy to crack. Yet, students worship campus placements, why? Let's find out!
Benefits
Saves time and energy: The on-campus jobs are easily approachable. The company recruiters arrive in well- known and reputed colleges in the country offering jobs to the deserving candidates. This saves enough time and money needed for job hunting.
Limited Competition: Instead of competing with an entire community, here students have to outshine their peers only. Since there are a limited number of students in most colleges; it's fairly easy to impress the recruiters from a small group of aspirants.
Bare minimum efforts: In case of campus recruitments, the college faculty go haywire arranging dates, interviews, documents, coordinating with companies and preparing students for tests. The students only have to be at their presentable best carrying the right attitude before the recruiters.
College and company rapport benefits: Mostly the companies recruit from top colleges that have a history of educating great students. Similarly, the well-known colleges only let the best of best companies recruit students for campus jobs. The company doesn't go empty-handed when it hustles to organize a placement drive in colleges. This is how you can benefit from the good rapport shared between the two parties.
Besides being all goody-goody, campus placements have their disadvantages too. The remuneration offered to students is meagre, entry-level jobs aren't exactly as promised, joining can be delayed infinitely and a limited number of companies arrive for placement drive, so that restricts opportunities to a bare minimum for only a select few students.
Off-campus placement
Off-campus placements are a great alternative for those who didn't exactly find what they were looking for in campus placements. In the off-campus vs on-campus placements debate, off-campus placements usually get the second position as students are more focused on getting jobs through campus placements.
Many students opt for off-campus jobs only when they don't find a suitable job role during campus placements.  However, even if you want more job options in your kitty, off-campus placements, can be a saviour.
But, unlike on campus placements, off-campus placements aren't easy to crack. You need to follow some campus placement tips and tricks to impress the interviewer with your personality, knowledge and skills. There are additional benefits with off-campus placements that are rarely found in campus jobs.
Benefits
Exposure: Off-campus placement allows you to look far and wide beyond your comfort zone in search of the right job opportunity. The exposure and knowledge gained during this job hunting process are far more valuable than any interview or group discussion.
Diverse options: With off-campus placements, you have the opportunity to dwell into diversified career options. You can choose something absolutely unrelated to your academic background or find something that matches just right with your knowledge. You also have the liberty to join start-ups or mid-sized companies other than the big giants like HCL, TATA or Wipro that only recruit through on-campus placement programs.
Self-satisfaction: The internal satisfaction achieved by securing an off-campus job is much more than the one found through on-campus placements. The feeling of independence, freedom and self-pride makes the whole experience much more joyous.
More knowledge: The process of finding the right job at a desirable company involves a lot of pit stops where you have to communicate, interact and share knowledge amongst different people. These interactions with foreign environment help gain more knowledge than any textbook can provide.
Well, securing a job through off-campus placements may be a bit tedious and de-motivating process but the final outcome is certainly worth the wait. However, the journey is full of hurdles. There are disadvantages of off-campus placements like increased competition, limited chances of success, tedious process and grilling during the interview.
Both, off-campus placements and on-campus placements have their pros and cons but ultimately lead to the same goal. So, there isn't much of a difference between off-campus vs on-campus placements when it comes to preparing for tests, interviews and group discussions.
If you're talented and capable of achieving the best, you'll never fall short of job opportunities, no matter how you apply for them. So, don't be disheartened if you couldn't succeed in securing a job through on-campus placements; take the AMCAT test to inch closer to your dream job and enrol for off-campus placement.
For the uninitiated, AMCAT is an online examination conducted by Aspiring Minds which tests candidates on their mental abilities skills required for securing a job. More than 700 companies in India, evaluate candidates on the basis of their AMCAT score before hiring them.
Therefore, work hard and let success makes noise for you. Then, off-campus vs on-campus placement debate won't matter much.