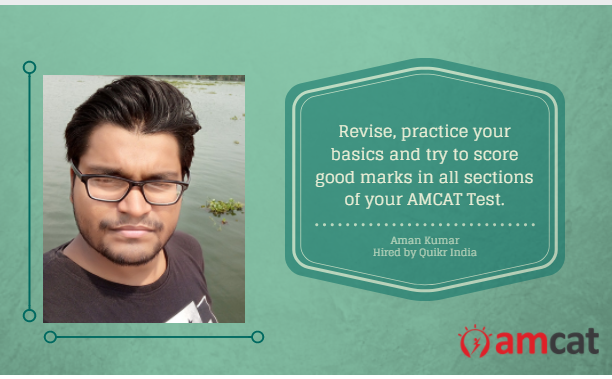 Most of the times, when we engage in an activity to find an AMCAT Testimonial, we hear honest voices recommending the way in which the test was conducted or the number of interview calls that they received after clearing the AMCAT Test. However, all of our success stories are consistent on one count – the need to practice, revise and prepare for the skill assessment. And we see the same in today's story – an account given by Aman Kumar.
Aman's AMCAT Testimonial:
Aman Kumar, a 2017 graduate of Sir M Visvesvaraya Institute of Technology, Bangalore was short of opportunities on campus. He now stands selected for an operational position with Quikr. This AMCAT testimonial joins the dots between the two points in his words.
I Took The AMCAT Test In My College Only.
Aman had not had a smooth run during his campus placements, getting rejected in interview rounds. He also observed himself short on opportunities, till he decided to schedule an AMCAT test for himself. We asked him a bit about his AMCAT Test experience.
"The AMCAT test was easy to moderate and well organised. You just need some practice and to revise your basics to get through it."
In hindsight, he believes that confidence is the first step forward when preparing for any skill assessment, including the AMCAT Test. That and due preparation!
"Don't be afraid. Revise your aptitude basics and practise as much as you can and try to score good marks in all sections."
Job Interview at Quikr
After receiving his AMCAT test result, he had waited for a month till he got his first job interview call. The one with Quikr came later, though he admits to several interview calls after the first one.
Coming back to his job search arc, we now talked to Aman about his experience at the Quikr job interview – how he prepared for it, how was the process flow and what got him through to the desired job.
"There were multiple face-to-face job interviews."
Overall, he termed the interview experience as good and easy.
Congratulations, Aman for clearing the road to your first job. We hope you are able to gather multiple learning opportunities there. We also hope your story helps others consider using this skill assessment.