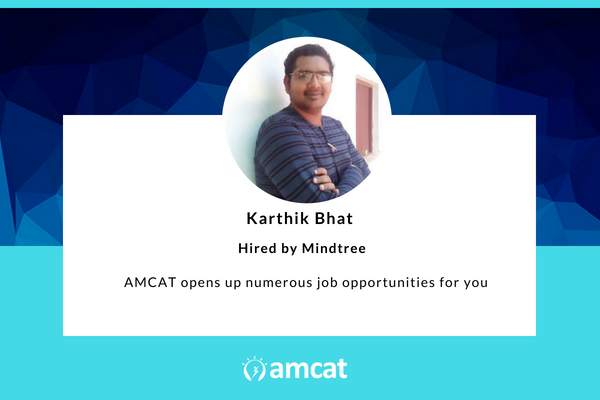 The AMCAT exam has proven itself time and again. There are numerous people who opt for AMCAT every month. However, the question that continues to dog us is – "How effective is the AMCAT test?"
To answer this question, we have decided to pick out achievers of the week. These achievers are people who have struggled, gotten up, placed their faith in AMCAT and embraced the best results. And, we are opening the series with our AMCAT Achiever of the week, Karthik Bhat.
Bhat found his calling in Mindtree and he credits his journey to AMCAT.
Let's hear his story –
Why did you opt for the AMCAT exam?
"I opted for the AMCAT because of the numerous job opportunities it provides."
When asked how the test was, Bhat said that the "overall test experience was good. However, some programs were really tricky."
When did you get your first interview call?
"I got my first interview call after 1 month of writing the AMCAT."
Karthik further added that the interview process was pretty good. And, to prepare for the technical and HR rounds of job interviews, he revised the core concepts of programming.
Being fully aware of all the concepts is really important if you want to crack the AMCAT test and do well in job interviews.
Would you recommend the AMCAT to others?
"Yes", says Karthik. His reason for saying this –
"Even though you might have to travel far for the test, the number of job opportunities or the companies offering the right jobs will increase manifolds." 
Do you have any tips that can help other job seekers in getting a good job?
"Be prepared with the basics of programming concepts, some basic programs, DBMS concepts, Network Concepts. There are many websites which can help you with this information."
Karthik got the job of his choice because he worked on the core concepts, prepared well and was confident throughout. He knew he could do it and with the AMCAT exam helping him on, it was only a matter of time before he got the job he wanted.
You too can pull off a Karthik Bhat and get the job of your dreams with AMCAT. Just schedule the AMCAT test, and get ready to write your success story.