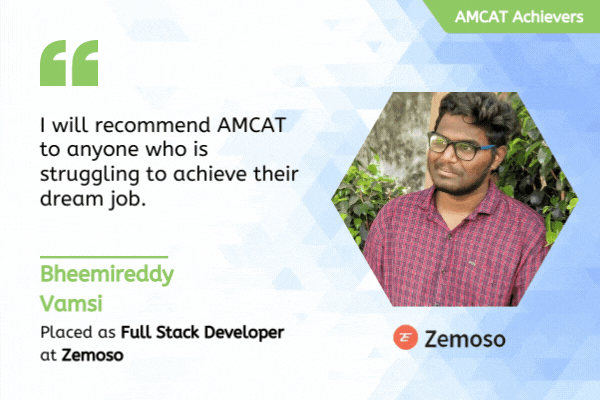 One of our candidates, Vamsi shared his journey of finding his dream job through AMCAT. He explained, how the AMCAT exam turned his struggle into an easy task. Here, we are presenting you the entire conversation with Vamsi himself, where he told us about his entire journey in terms of the challenges faced, and the assistance he got from AMCAT at every step. Read below.
Why did you opt for AMCAT?
"I heard from my seniors that AMCAT is the best platform for job search. So, I attempted for the AMCAT exam from my college."
While looking for a job, did you face any difficulties? Please elaborate.
"No, I did not face much difficulty while looking for a job from AMCAT. I started getting notifications for jobs very often irrespective of the package. As soon as I got the notification I had applied for every company, told Vamsi."
Tell us about the job you got through AMCAT and other offers and interview calls you received through it?
"I got shortlisted for 4 companies through AMCAT, I have applied for 2 companies SHL, ZemosoLabs. I have participated in the whole recruitment process of ZemosoLabs but have not attended the round 2 interview of SHL due to some personal problems, hence I got placed in ZemosoLabs. I even got shortlisted for Integra, Riktam Technologies also but I did not go forward with their interview rounds, claimed Vamsi"
How did the AMCAT feedback report help you assess your performance?
Feedback Report is the best part of AMCAT. I took the AMCAT exam in July/August, at that time I was in the early stages of preparation and then I had reviewed my AMCAT scorecard, where everything is clearly mentioned in which all areas, I am strong and where I need to concentrate more."
Would you recommend AMCAT to others?
Yes, I'll be definitely recommending AMCAT to others on the basis of my experience.
Why would you recommend AMCAT?
This platform offers plenty of Job Opportunities irrespective of the domain in a wide range of packages.
If in case you have any queries, feel free to get in touch with us.
Our best wishes to him for his future endeavors.