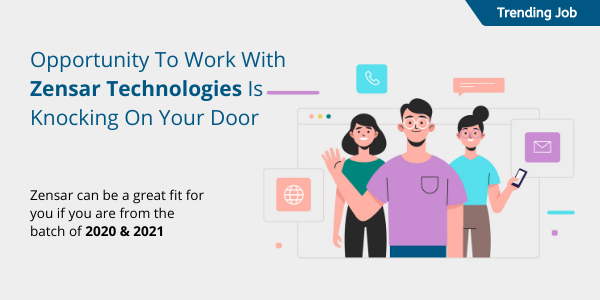 Searching for a job opportunity is one thing that makes everyone worried and stressed, especially for someone who just graduated, and their aim is to get a stable job in a reputed company. AMCAT is here to help you. The process is very exhausting for the mind and tiring, but we would want to tell you that we can make this whole process very easy for you. AMCAT offers a wide variety of fresher jobs for every candidate to find their dream job along with an interesting salary package. Here we are proposing a great opportunity for you, to work with one of the company that has been awarded as "Innovator" in Avasant's Digital Workplace Services 2021.
This time we have picked up an opportunity to work with Zensar. So, here is everything you need to know about this job opportunity.
About The Company – Zensar
Zensar conceptualizes, builds, and manages digital products that are customer-centric for around 130 leading companies. Our cross-functional teams of full-stack developers, application engineers, designers, technologists, and consultants are aligned to the latest cloud-native, disruptive, and, often, proprietary tools and accelerators – helping you move with agility and purpose.
Zensar has been taking outstanding steps to make the company a great place to work in terms of evaluating associate engagement, getting clear feedbacks, planning and executing strategies in a professional environment. They have been aiming to maintain a healthy work-life balance within the organization.
This company is well known for offering numerous learning opportunities and a positive environment for freshers to grow. Zensar is a great place to kick start your career being a fresher.
Job Location:
Pune/Hyderabad/Bengaluru/ or any client locations in India
Required Skill Set:
If selected, you will be required to work in flexible time zones, since our clients work in a 24*7 business model.
You should be open to work across diverse technology platforms or as per business requirements.
You should have basic application support knowledge. And excellent, written, and oral communication, and interpersonal skills.
Also, you should be willing to work in collaboration with the team.
You should have good knowledge of Computer Science, Coding, English, Qualitative and Quantitative Aptitude.
You should always have a customer-centric approach.
Job Profile:
Junior Software Engineer
Salary:
INR 4 LPA
Educational And Technical Competencies:
Targeting 2020 and 2021 Batch
BE/B.TECH (CS/IT) or MCA(BSc/BCA) with 60% and above in 10th, 12th, and Graduation.
Selection Process:
At first, initial shortlisting will be done by AMCAT, then certain online assessments will take place – ELQ & Computer Programming tests, and then Automata – Coding test. Then shortlisted candidates will get an email regarding further steps and the process of interview.
If you do not want to miss out on getting this job opportunity, you can try to practice your interview skills. You can take the help of Mock-AI to identify your weaker section and how you can improve them.
So, what are you waiting for go ahead and apply for this fresher job in Zensar.