One of our candidates, Srinivas shared his journey of finding his first job through AMCAT. He very well explained, how the exam turned his struggle into a cakewalk. Hence, we are presenting you the entire conversation with Srinivas himself, where he told us about the challenges faced, the assistance he got from AMCAT, and more.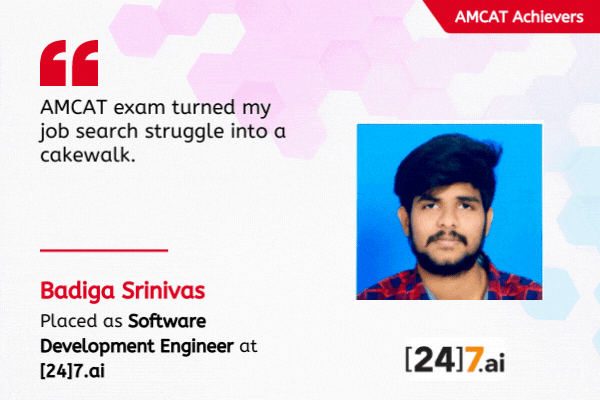 If you are also sailing in the same boat, here is a chance for you to read his journey and inculcate these steps in your job search.
Why did you opt for AMCAT?
Srinivas explained that he took AMCAT, to achieve a job with a role that he is interested in.
Did you face any difficulties while looking for a job?
"I had few offers in hand, but I was not satisfied with them because the roles offered were inappropriate and the package was too low. After that, I had applied for some jobs on AMCAT. I was shortlisted for two companies, and I finally got the offer", claimed Srinivas.
Tell us about the job you got through AMCAT, and other offers and interview calls you received through it.
"I had applied to few companies. I got interview calls from two companies and finally got placed into a product-based company as SDE."
What role did AMCAT feedback report played in accessing your performance?
Srinivas said, "AMCAT feedback report helped me in improving myself."
Would you recommend AMCAT to others based on your placement? Why?
"Yes, AMCAT is the best platform for job search. If you have good knowledge and talent, then you will have lot of opportunities and you will definitely get your dream job here" concluded Srinivas.
We wish him all the best in his future endeavours.
Stay tuned to www.myamcat.com for more such stories.