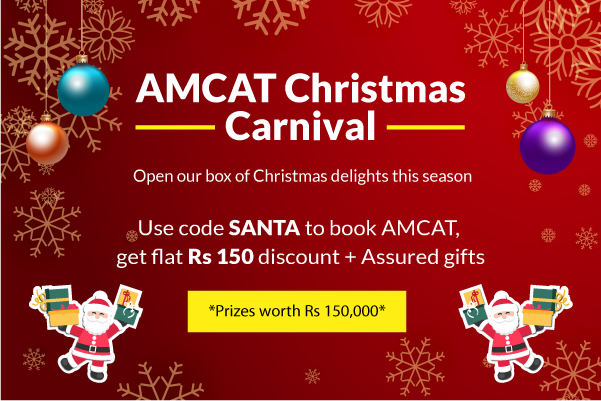 Bells and bliss are in the air – as the year comes to an end and we all wait for a brilliant 2017. And if you have also latched onto the Christmas spirit, Merry Christmas and Happy Holidays. We hope that the time you spend now with friends, family and your loved ones, will help you recharge and be ready for a brighter 2017.
The timing is apt for many, who have latched onto the festive spirit with weekend plans – be it over vacations, binge-watching films and TV or even engage in a spot of reflection and self-improvement.
We felt it too – and so, we have asked Santa to be an extra helping hand for you and help us deliver our special Christmas offer to you.
AMCAT Christmas Carnival
What's that – you ask? Well, can you think of a better beginning to 2017 than by achieving your dreams? I guess not. This Christmas, as people clear the snow from their window panes, clear your horizon from murky doubts and set your sights on your dream job by participating in the AMCAT Christmas Carnival.
If you're part of the graduating batch of 2017 and lining up your sights for campus placements, hirings and fresher job opportunities, then giving the AMCAT will only help you judge where you stand, broaden your scope and apply for exclusive openings with our partner companies. AMCAT makes sense for a graduate too.
Offer Details:
Celebrate this holiday season by booking an AMCAT test between Dec 23 -25 and receive a FLAT Rs 150 discount. Simply use the discount code SANTA!
You also stand a chance to win the following amazing gifts worth over 1.5 lakh!!
100% Cashback
Additional 1 year AMCAT subscription
Amazon Gift Coupons
Freecharge cash
So, what are you waiting for? Hurry and schedule an AMCAT test this Christmas and begin your new year as a sparkling star in the corporate world.