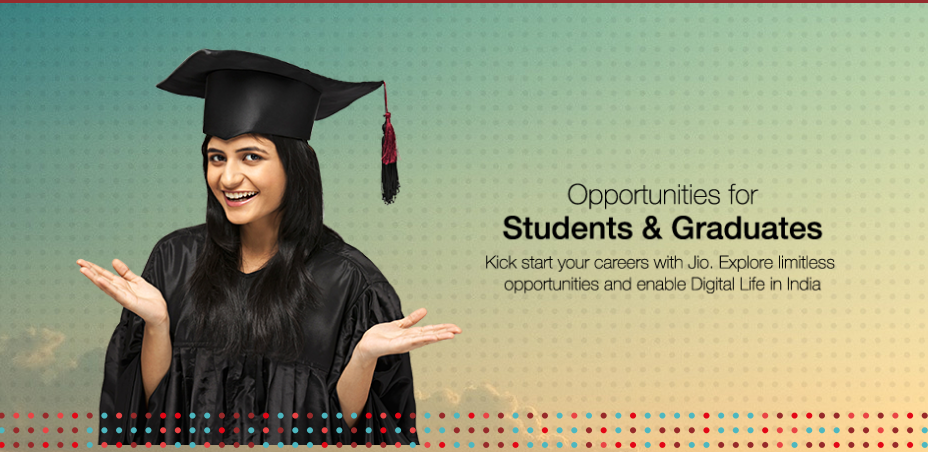 If the wired (both literal and otherwise) world of telecom and telecom jobs is what you aspire for, as you begin your career, hunting for fresher jobs – then this is for you. Mobile Telephony and internet communications stalwart Reliance Jio is hiring – read below to get a gig in IT jobs in Mumbai or Reliance Jio jobs.
Company in Focus: Reliance Jio Infocomm
One of the youngest brands from the Mukesh Dhirbubhai Ambani stable, Reliance Jio aims at a Digital Life, from the outset. Based out of Navi Mumbai, the company operates in telecom areas of 4G, internet-enabled solutions, M-Commerce and smartphones (through subsidiary Lyf).
Since the company has built up as a startup with young talent driving the engines, most of the recruitments happen on campus (as per Glassdoor), with employees referrals being a distinct second. Employees have consistently ranked it for learning opportunities, an upward salary graph, paternal and maternal leave and life insurance. However, the status of a work-life balance or faster processes is murky.
Looking for more information? We had studied the organisation earlier while looking at the processes for an internship here – the story is available here.
Who are they looking for?
Reliance Jio seeks experienced B.Tech graduates (in Computer Science) to join their ranks in Mumbai as Front End Developers and is willing to pay a Rs 5-7 lakh package to the right candidate.
To apply, you need to prove experience and knowledge in HTML/CSS3, JavaScript, Angular JS / React JS and Angular 1.5. Hands-on experience on Cloud-based distributed system, a strong understanding of front-end WEB technologies, advanced HTML technologies and a willingness to explore endless possibilities.
Here is a wrap-up of the position:
Profile Offered: Front End Developer
Course Specialization: B.Tech(CS/IT)
Desired Experience– 2-6 Years
CTC Offered: As Per Industry Standards (Rs 5 lakh – Rs 7 lakh)
Job Location: Mumbai
Keen on this vacancy amid Telecom / IT jobs in Mumbai? To apply click here.
You could also look at our full set of IT jobs in Mumbai in our section for exclusive AMCAT jobs section. Or follow this space for a set of curated premium job listings.