AMCAT Ambition participation can add tremendous value to your resume. You may be wondering how? There are many aspects to it which will be discussed here.
However, before that, let's understand the fundamentals of a resume. It is especially all the more important for the freshers to understand the essence of it. This document not only stands as a testimony of your academic competence but also, tells a lot about your personality. A recruiter is able to make a clear demarcation of the job application which they would like to take forward, simply with the first glance at your resume.
AMCAT Ambition contest stood as a chance for many collegiates and professionals to get clarity about their career choices. Since the application is still open, therefore, you too can make the best out of this competition.
You will not only get the advantage of winning some really exciting prizes. However, you will also earn a chance to benefit from some additional uses which include resume writing.
Scroll down below to know more about how to enhance your resume with AMCAT ambition participation.
Click Here to apply for AMCAT Ambition Now!
How to highlight AMCAT Ambition participation in a resume?
Quite important for the freshers, every resume consists of a section called- Achievements/Extracurricular. Now, this segment helps you stand out in the sense, it talks about various qualities which otherwise the recruiters will not know. Unlike the rest of the sections such as Education, Key Skills, etcetera, this part will help you highlight your eagerness to thrive. After all, the marks section plays an important role. However, it is almost similar for everyone and doesn't really tell about your skills. Also, it doesn't help in understanding the personality of a person.
Thus, you would want to underscore your capabilities in this section. Therefore, in this case, you should add your AMCAT Ambition participation in the "Achievement/Participation" section.
You need to consider the following two scenarios to highlight your participation in the resume:-
AMCAT Ambition for Resume- Two Scenarios
Here is a comprehensive overview of the two important cases you need to consider while writing your resume: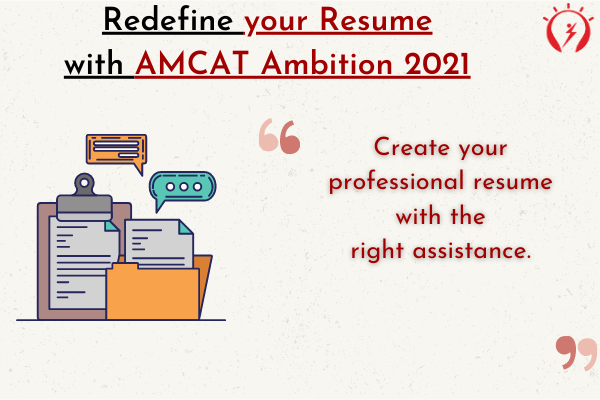 1. If you win any of the prizes
If you win any of the prizes, then you have can directly talk about your participation and the prizes won.
i. AMCAT Ambition 1st Prize- If you are amongst the top three winners, then you are supposed to highlight your experience along with a brief description of your best performance.
You can write as follow:-
"Bagged the first position in AMCAT Ambition contest for sharing my career goals and acing the aptitude test."
Henceforth, you can talk about your passion in the extracurricular section.
ii. Similarly, you can briefly describe your achievement for the subsequent position. Don't forget to accentuate it in the subsequent sections like "Hobbies" or the "Extracurricular."
Also, the AMCAT Ambition third prize comprises the "Resume Buddy" free subscription for three months. Henceforth, you would effortlessly get experts' advice at the same time.
2. If you don't win any of the prizes
Many of you may be wondering, "what about the ones who do not win a prize at all?" See, the very participation in the contest will take you one step ahead from wherever you are right now.
How to create a professional resume?
You need to follow a certain flow or trajectory to maintain a professional and compelling element in your resume.
It is advisable to create a professional resume using templates and designs according to the job role. Kindly avoid writing sagas. Ensure that your resume is short and crisp.
AMCAT Resume buddy is specialized assistance to offer you well-curated resumes according to your job application. You can also score review the resume written by you.
Click here to register for the AMCAT Resume Buddy Subscription.
All the best
Get in touch