The HR interview is a personality assessment test. The idea behind this selection round is to check the candidates' vigour for the job role.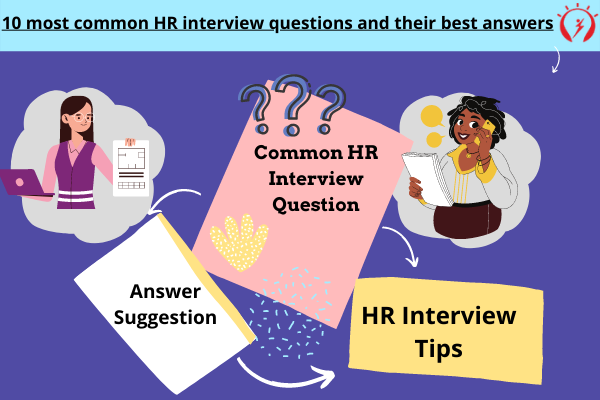 Thus, this screening interview is the doorway to the job confirmation. Therefore, students must prepare to approach it with needed confidence and readiness.
What are the common HR interview questions?
So, there are a few common interview questions asked during the HR round. Students can take the plunge structuring the best possible responses for this key assessment. Therefore, here is a list of the most common questions that it will prepare you for other similar questions too.
Note. You are supposed to change the response according to your requirement and situation. Have a look below:-
10 most common HR interview questions and their best answers
Question 1. What are your strengths and weaknesses?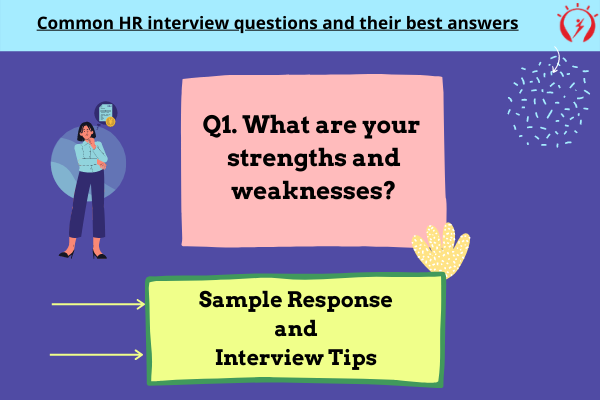 Knowing oneself is an important virtue. It is a testimony of one's awareness. This question is not posed to ask how perfect you are. But it is more about how perfectly you know about yourself. Only when you know your strengths and weaknesses, can you work towards improvement? Otherwise, stagnation is inevitable and no company wants that. You are not required to flaunt a perfect image. Honesty is all that it takes to ace the answer well. You can respond to this HR question as follows:-
Response 1. Let me walk you through the strengths and weakness:-

 I procrastinate and micro-manage tasks which somewhat slows down my pace. However, my focus is always on what is needed instead of beating around the bush due to personal shortcomings. I share a flexible personality. Handling hard work smartly is my key strength.  I firmly believe in professional work ethics and live by that. 
Question 2. Tell us more about yourself?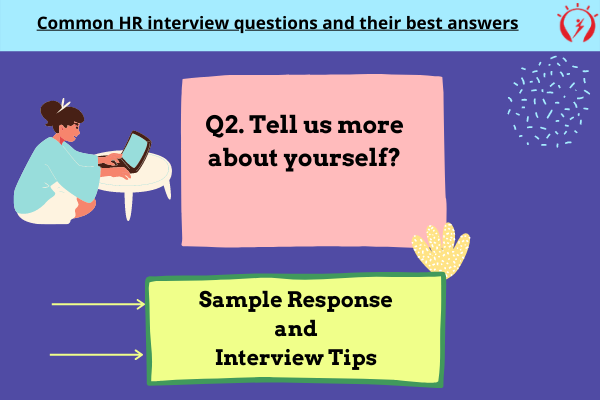 This seemingly easy question confuses many students during HR interviews. Ironically, talking about technical knowledge may be an effortless task for many. But describing oneself becomes a cumbersome task. So here is a thing to enhance your response. Avoid reiterating the points on a resume. Try to add extra details to your answer. Here is a sample answer for this HR interview question:-
Response 2. Let me walk you through my journey so far. For me, life is an ongoing learning process. I am fortunate to have been raised under a joint family. Knowing-unknowingly it helped me develop my social skills. Doing my schooling and higher studies from this place, I evolved a lot as a person. The digital marketing internship from this institute helped me understand the strength of the online world today. Being a bibliophile, I have my little blog to opine myself to the world. I share a great interest in travelling and music. For me, life is a constant exploration and I am a full-time explorer. 
Question 3. So what do you like to do in your leisure time?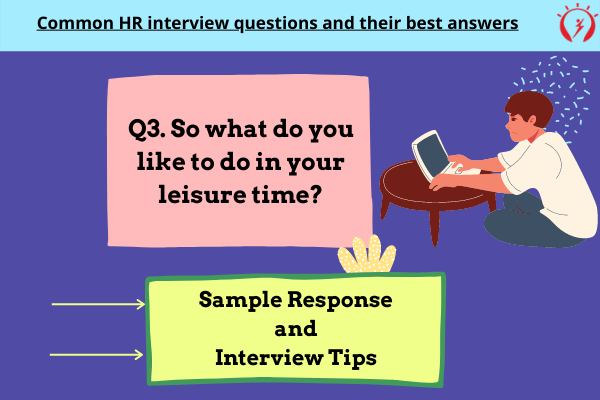 Response 3. This is the "brownie-question" of your HR interview.  It is an opportunity for you to open your creative side. Therefore, here is a sample answer to one of the most common bonus HR interview questions.
Response 3. I spend a lot of my free time reading books. It helps me connect with people I have never met. Apart from that, I love gardening and spending time with nature. It somehow invigorates my senses to do better with a fresh perspective. Family time is integral to me. So I spend quality time with my closed ones whenever I am free. 
Question 4. What are your salary expectations?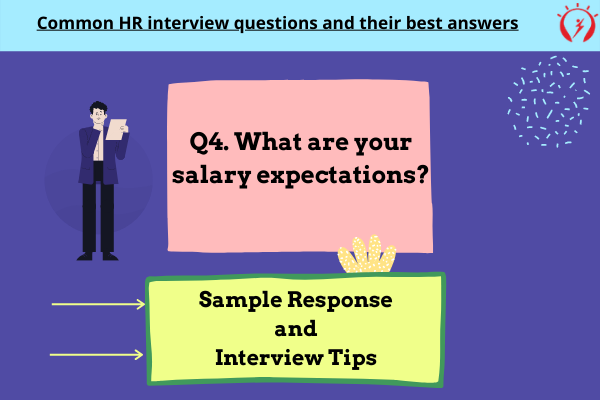 This is one of the most straightforward HR interview questions. However, you can leave a lasting impression by presenting it well. Very often students are advised to not share their expectations because it may lead to a bad impression on the recruiter. On the other hand, sometimes they are guided to voice their expectation upfront. It might leave you confused while facing those critical HR interview questions. If you are a fresher then confusion may multiply manifolds. So here is a neutral response to gauge the situation.
Response 4. I am sure that the company will provide me with a holistic learning culture with work-life balance. With my experience in these projects and internships, I look forward to being a valuable addition. My salary expectations go as per the market standards.  
If the HR still insist on sharing an exact amount, then open your expectations accordingly. Also, if you are a fresher, then learning should be your priority. But, this doesn't mean that you have to compromise on any part. Just be aware of your skills and don't hesitate to open up about your expectations accordingly.
Question 5. Are you willing to relocate?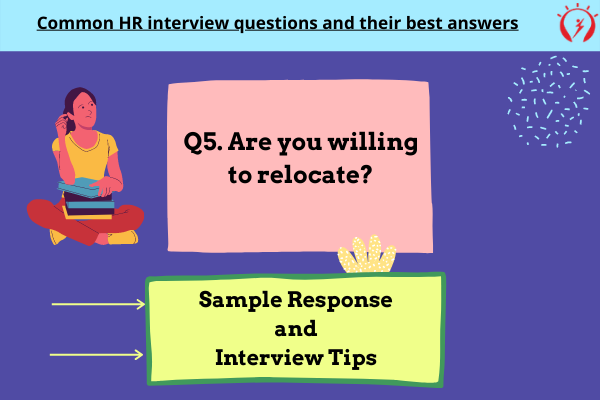 This is a subject HR interview question. It needs to be handled straightforwardly with utmost honesty. Kindly agree or disagree according to your circumstances. Here is how you can present your answer:-
i. For Agreement
Response 5. Thank you for the opportunity. I am willing to relocate. 
ii. For Disagreement
Response 5. Thank you for the opportunity. However, I will not be able to relocate as of now because of my personal limitations. 
Question 6. Why do you want to want to do this job?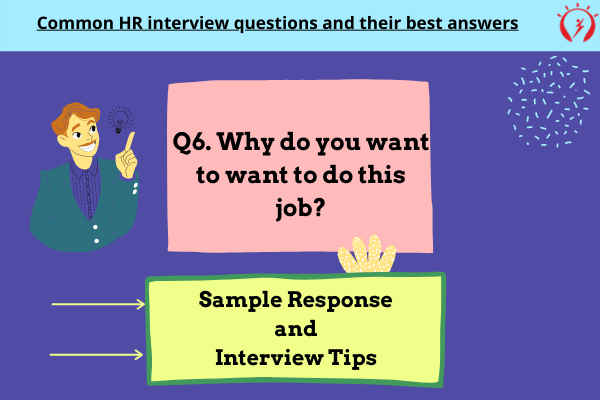 This one of the most crucial HR interview questions because it gives a clear picture of your understanding of the job. Here is how you can respond:-
Response 6. I will be a suitable addition to your team because my competence shines best in this field. I have always engaged in similar projects along with my college studies. Therefore, I want to do this job as it will offer me a holistic learning experience.
Question 7. Where do you see yourself in the next ten years?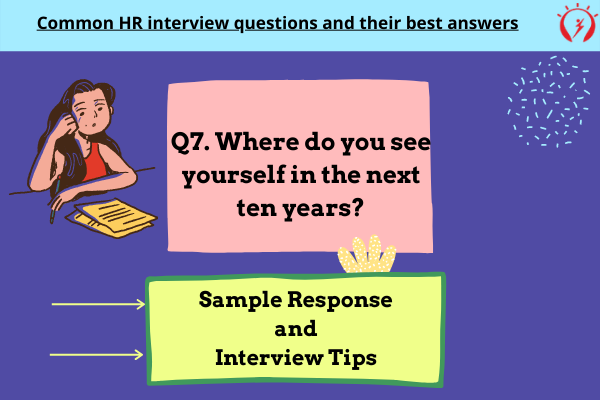 This is one of the most common yet tricky HR interview questions. Here is how you can respond to such situations.
Response 7. By following a step-by-step approach to upgrading myself.  I see myself sharing higher management roles and mentoring my young teammates through my experience. One thing is going to be common for sure. No matter wherever I will be placed, I shall give my 100% to take that endeavour new heights. 
In this way, you can display your leadership skills. Not only that, this response shows your integrity and commitment to the profession.
Q8. What was the most challenging point in your life? How did you overcome it?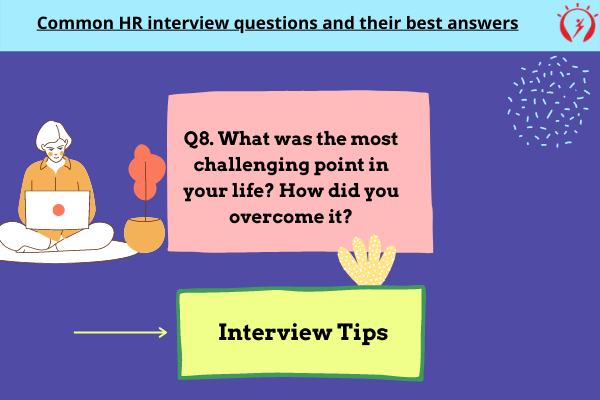 While posing such HR interview questions, the recruiters wish to know how you handle tipping circumstances. Your coping mechanism can talk a lot about emotional stability. Work-life is full of ups and downs. Therefore, HR tries to know you better through such questions. There is no need to be conscious of your answer. Always stay honest. The more transparent you are, the more you will win their trust.
Q9. How do you approach criticism?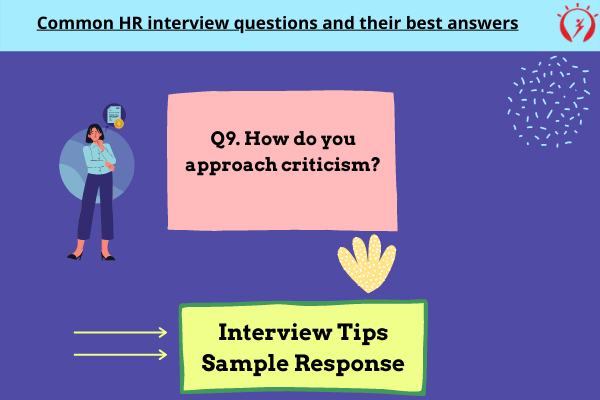 See this question is a subjective one. Everyone has a different coping mechanism. By understanding your dealing process, an HR gets to know if you'll be able to cope with the job or not. Thus, here is a response sample for you:
Response 9. Human error is inevitable. I understand that it fully applies to me as well. When everything is perceived as a learning process, criticism becomes a fuel of growth. By explaining my point across, I try to listen to what the person has to say.  Criticism is a part of teamwork only and it should be taken sportingly. However I believe in voicing my share too. So that it can be two-ways discusion towards the solution. 
Q10. Do you have any questions for us?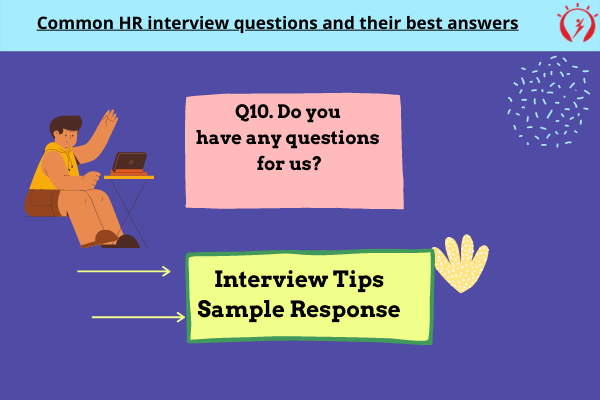 This question during an HR interview may seem optional. However, it can be a game-changer if tackled well. Thus, you should always ask this question. But it doesn't imply that you should ask just for the sake of it. Therefore, you should always have a smart question for the interviewer because it shows your inquisitiveness.
Hence, here are a few questions you can ask for instance:-
i. How has this company evolved in the digital sector so far?

ii. What is the growth prospects in the department in which I'll be hired? 

iii. Do you have any questions regarding my candidature?
These were just sample questions to give you an idea of it. Such queries can show your curiosity and awareness about the latest trends and your department.
It is always better to rely on an expert source. When the world is advancing technologically, embrace technical interview guide- AMCAT Mock AI. This tool reads your body language and response. It then rates you accordingly, thereby giving you a clear picture of your performance.
So leave no stone unturned and ace your dream company HR interview like a pro.
All the best!