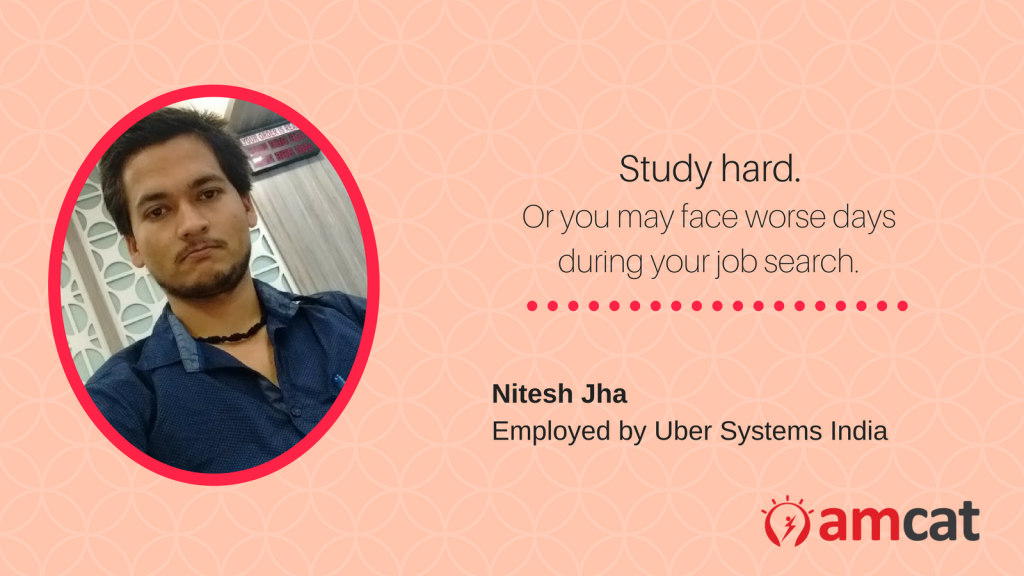 "Finding a job is not an easy task. Hence, the AMCAT test is one of the best options we freshers do have", shares Nitesh Jha, our AMCAT achiever day of the day.
Meet Nitesh, who graduated in 2015 from the Scope College of Engineering in B.Tech (Mechanical) and went through a choppy experience during his own job search experience. Passionate about machines and IT, Jha was looking for his perfect, stable job after his graduation. And it wasn't going great.
The story of the AMCAT test:
When quizzed about his AMCAT test experience, he shared that it had been a good one from the get-go. He breezed through the online test and then calls came. In fact, the first interview call happened a week or two later. And then, it was time to head for the face to face interview at Uber India Systems Pvt Ltd.
Uber Systems is the same parent body, which runs the cab aggregator and its exponentially growing network across metro cities. And Nitesh had found his job as a Partner Support Representative here.
Career Tips to Remember
We asked him if he would recommend the assessment test to other job aspirants, who are on their own job search journeys? He said, "Yes. Taking the AMCAT test will definitely prove your skills."
He also shared another candid observation. "Study hard or else you might see worse days during your job search."
Did you like this one of our AMCAT success stories? You can read up on more of these stories in our testimonials section. And if you are considering giving the test yourself, you can schedule one for yourself now.