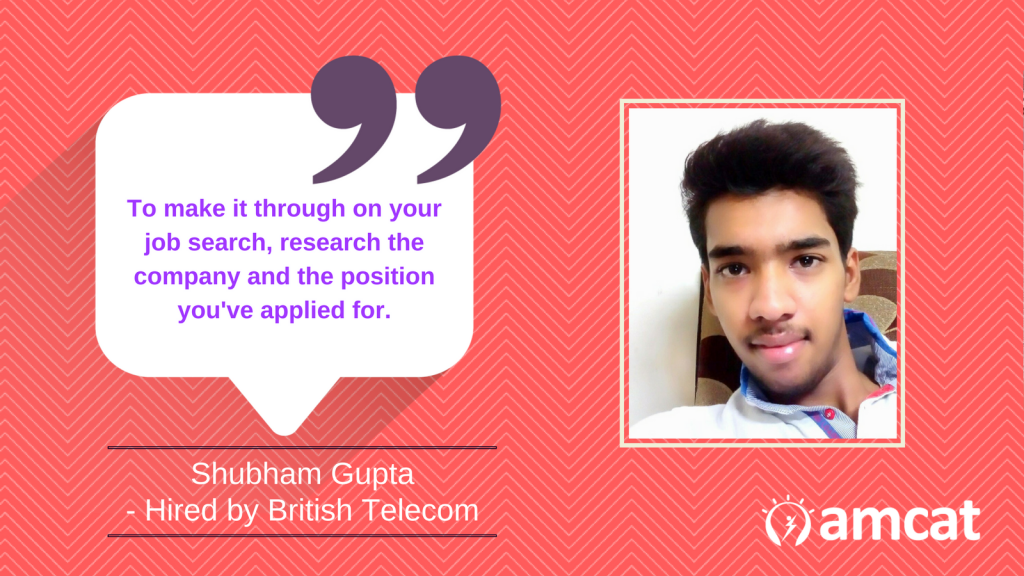 This B.Com Graduate from the Satyawati College in Delhi University, may not, at first glance seem like the ideal job seeker who approaches the AMCAT Test, in search of fresher jobs. However, Shubham Gupta's success story is one more example of successful, non-IT graduates, who have had a good stint with the test. This is his achievement tale for a job in British Telecom, powered by the skill assessment test.
"I wanted to opt for the finance field because I believe that I am pretty good with the numbers."
The AMCAT and the British Telecom Job:
Shubham Gupta, a singer at heart, begins his tale with a sonnet on what attracted him to the AMCAT Test. "I took the AMCAT because it was quite credible and I had gone through so many reviews about it. It was quite convenient to take this test and an easy one too."
While most of the candidates who take the AMCAT Test talk about the preparation that they undertook before giving the actual test, Shubam's song stands in contrast. "I didn't make any sort of preparation for the AMCAT as the level of questions were not so difficult. Instead, I found it focused on the basics. If one has a basic knowledge in Logical Reasoning and mathematics (quantitative ability) then it's quite easy to Crack this test."
He didn't have to wait long for his first interview call, either.
"I got my first call on the second day after the AMCAT."
His journey towards a job in British Telecom was a smooth one as well. After he received the call to come in and give the job interview, he came in prepared with handy tips for anyone wants to follow his song.
"The interview process was quite convenient with the company. There were only three rounds for the selection process. I just went through the company's website and it worked out great for me as I was able to answer each and every questions during the interview process."
And when did the OK come?
"The day I gave the interview, I got the result as well. So, I can say that it was definitely a wonderful experience."
Would he recommend the AMCAT to others? If yes, Why?
"Yes. AMCAT is quite credulous and trustworthy. It will definitely help you to achieve your goals and aspirations."
Ending on a positive note, we asked him if he had any tips that could help other job seekers in getting a good job?
"Remain relaxed during the interview. Research the company and the position you have applied for, thoroughly."