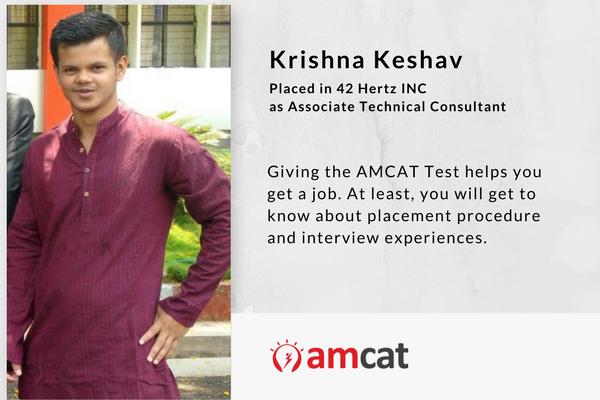 A computer science graduate looking for a fresher job to expand his knowledge and skills, Krishna Keshav came to the AMCAT Test, bereft of placement options. Here is how it helped him gain a technical support position in 42 Hertz Inc.
Why the AMCAT Test
Keshav, an engineer from PES College of Engineering, Mandya had been looking for a fresher job where he could expand his knowledge and skills and enhance it over time. However, he did not find much luck during his own campus placements.
"I found the AMCAT popular among peers and on the internet."
Researching over the AMCAT Test, he found it to be a decent option. "Since AMCAT turned out to be popular among peers as well as on the internet, I decided to give a shot in AMCAT."
Giving the test turned out to be a smooth experience for him. Looking back, he said, "With basic preparation and little speed, one can easily crack the test with decent marks. It does not
require a lot of preparation, but one should have their basics right."
Interviews after the AMCAT Test:
It took some time for Keshav to get job opportunities and the kind of results he was expecting from the AMCAT Test. In fact, he received his first call after two months.
For his current placement, he terms the job interview at 42 Hertz quite good and smooth. "I had prepared for everything, starting from the very basics. So, it worked out just fine for me at the interview."
Learnings from the AMCAT Test:
Keshav recommends the AMCAT test to all job aspirants.
It'll definitely help you With a job.
If not that, at least, you will get to know about the placement procedure and interview experiences.
He still suggests preparing for the basics, with ample practice, before you decide to take the AMCAT Test. "For a fresher, focus on Data Structure and Algorithms with any one language out of C, C++, Java. Don't just read the programs, but rather practise, trying them on your own."
Congratulations Krishna Keshav, for clearing your chance with the AMCAT Test. We hope his tale inspired you to consider giving the test on your own. If yes, then click here and schedule an AMCAT Test for yourself today.