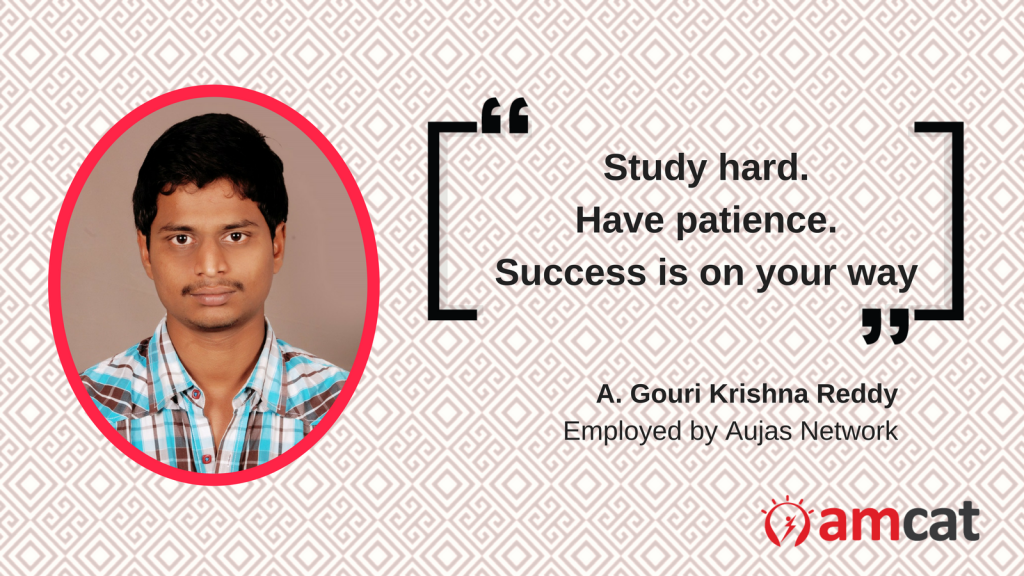 A. Gouri Krishna Reddy is a man of few words. However, this AMCAT achiever knows that diligence and patience are the true ways to success. In this AMCAT testimonial, he explains the troubles he faced during his job search and what helped him in getting a job.
Job search troubles for 2014 graduate
Gouri Krishna, a 2014 engineering graduate from CMR Institute of Technology had been looking for a job for some time. Unfortunately, it did not lead to a good job offer. When quizzed about the kind of problems he had been facing, he said, "Competition is too high out there. Plus, there is no such (concrete) information on jobs, which specifically cater to the freshers."
He, however, did not let himself be bogged down by it. "I knew I had an advantage with my knowledge of JAVA." He also kept his spirits high, believing in patience and hardwork as the true road to success. And the AMCAT test.
Beyond the AMCAT test:
"I am thankful to the AMCAT test. In fact, the AMCAT gave me a lot of opportunities." He had given the test and landed an interview opportunity with an Information Security Service company, Aujas Network. And he breezed through it, landing the job with ease.
What is his career goal now? "As of now, my goal is to become an expert in the security domain, where I am working currently."
And would he recommend the AMCAT test to others? He thinks and then says yes. Explaining his answer, Krishna Reddy said, "Because, nowadays most of the companies, (including MNCs), conduct their hiring drives only through an assessment platform like the AMCAT."
In parting, we asked him if he had any tips that could help other job seekers in getting a good job. He said, "Study hard. Have patience. Success is on your way."
Did you like this one of our AMCAT success stories? You can read up on more of these stories in our testimonials section. And if you are considering giving the test yourself, you can schedule one for yourself now.