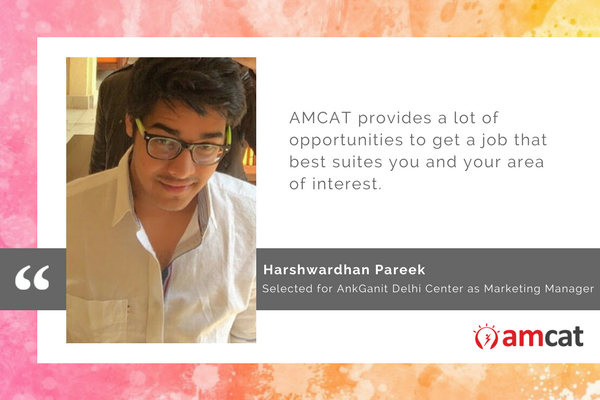 Can an engineer in electronics and communication go down a route as different as digital marketing? It's possible – if you are able to find suitability with it and with your interests. And that's the learning we received from this AMCAT Testimonial. Follow the cues and find out why he landed the interview call and got selected for the job, which is considered unconventional for a B.Tech student.
This is Harshwardhan Pareek's AMCAT Success Story.
Why the AMCAT?
Harshwardhan, a 2017 graduate from the BK Birla Institute of Engineering & Technology, was looking for an off-campus placement. And trying very hard.
"It was very difficult to get an off-campus job. I realised later, that the main problem with me, was that I did not know where
I should send my resume. That's when I heard about AMCAT and decided to go for it."
And how did it go?
"The AMCAT experience was quite awesome and you don't need any extra special preparation for this. I prepared for the skill assessment by myself only."
The Interview call:
For Pareek, AMCAT became an instant hit, landing him his first interview call within the month. The interview call with AnkGanit Delhi Center came later.
Talking about his process and experience with AnkGanit Delhi Center, Pareek said, "The interview experience was quite good. I got selected for the Marketing Manager profile, which very well suits my skill sets."
He ended up recommending it too.
"AMCAT provides lots of opportunities to get a job that best suites you and your area of interest."
Provided you're prepared for it. On this count, he said, "The best tip that I would like to give is to prepare well for the test and get some knowledge about the company before answering the interview call."
Congratulations, Pareek! We hope you have a strong road map ahead. And that your trajectory serves as an inspiration, in the form of an AMCAT Testimonial for others.