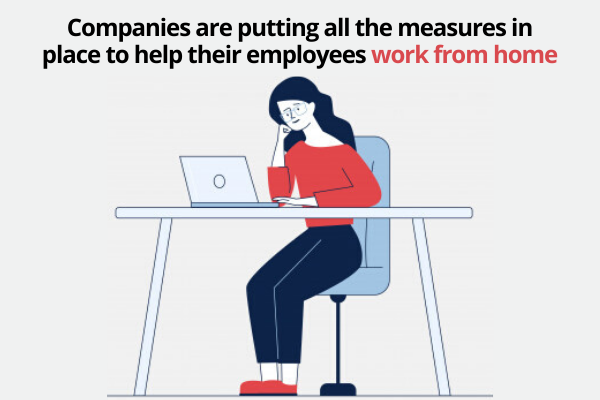 COVID-19 has gripped all the companies with fear and uncertainty. Moreover, it has put them on the edge and have impacted the work all over the world significantly. In between all this chaos, companies are trying their best to operate from home, while also keeping a track of the mental health of their employees. For that, many companies are organising online workshops and talks to keep their employees healthy both mentally and physically.
Making an environment which is similar to your workplace is not easy because getting the right software and hardware tools with a moody Wi-Fi connection is difficult. On top of that, doing all the household chores like cooking and cleaning is challenging for many.
Tools like Microsoft Teams, Skype, Zoom and Google Hangouts have made it easier for the companies to stay connected with their employees. However, the majority of the workforce is yet to get comfortable with tech because usually these are handled by the IT department. In addition to that, due to limitation of time co-workers are unable to collaborate or brainstorm.
So, to overcome some of these issues companies are trying to build infrastructure to make sure that the employees don't face any issue.
Mobile Applications
Due to COVID-19, there is a huge spike in the number of downloads especially for apps like google duo, skype, G-suite and more. These applications are making remote working a smooth process and making it simpler than ever before.
Online Recruitment
The hiring managers have opted for online platforms to continue their recruitment. They are using video platforms to stay in touch with the candidates. Majority of the recruiters are using AMCAT to shortlist candidates. So, if you haven't given the AMCAT exam, then you can now give it from your home. 
Emphasis on Mental Wellbeing
In the wake of the COVID-19 outbreak, companies are creating committees responsible for rolling out engagement programs, webinars on a variety of skills and also introduced medical plans.
For instance, Amdocs had added an extra layer for support to help their employees. They have come up with Virtually Together website, it comprises of a wide range of solutions for working from home, wellbeing and for parents at home with their children. These are coming extra handy during these trying times.
Time to hone skills
Companies are encouraging their employees to take up online courses and gain certifications while quarantined at home. McDonalds India is conducting its classroom training sections online and has introduced virtual modules and masterclasses by managers. Moreover, the employees can access these creative learning sessions on their phone.
Companies are putting multiple measures in place to protect their business and employees. Therefore, we must stay positive and do everything we can to sail through such tough times.