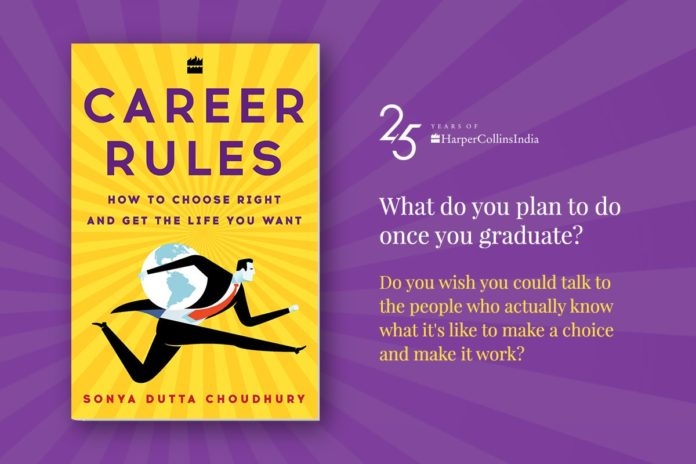 What is the core to skill assessments and why do students, job aspirants and even full-time employees opt for them. It is a tool for self-analysis, a mirror that can help you gain an idea of self-reflection. These insights let you then work on your strengths and weaknesses and improve your career trajectory.
In our first interaction with Sonya Dutta Choudhury (How Divergent are you) she examined how aptitude tests help in real life. In a special interview, that the career-based author talks about tips for a better career, skill assessments and what powers her drive to write.
Your book 'Career Rules: How to choose right and get the life you want' has garnered a lot of interest. What motivated you to write on this subject?
Eight years ago I started writing a careers column for Mint called 'Get a Glimpse'. It looked at a different career every month and profiled three people in that career – a young rising star, a senior professional and a CEO. The series became very popular and I found myself drawn into the fascinating world of what people do with their lives. I met so many inspiring and unusual people through this column that I felt I should set all their stories down in a book. So Career Rules was born.
The career hacks shared by you via the "Seven Paths to Success" make for a compelling read. Any suggestions for the recruiters to help them seek out the right kind of talent?
One thing that is common among all the recruiters I speak to is their search for the 'right attitude'. Recruiters want a candidate with an enthusiastic attitude and a learning mindset. There are many ways to gauge this including a careful reading of the candidate's CV (what has been their career trajectory so far and what does it say about their areas of interest and the expertise they have built up). Of course, personal interview is a good opportunity to examine a candidate's attitude. And then, not to forget, there are the assessment tests.
You've talked about knowing oneself better through assessment tools. Could you please elaborate on this?
Test-taking can be a useful exercise to know yourself better. Just by looking at the result analysis of these tests, you can decide whether you have the spatial abilities to be an engineer or the verbal aptitude to work in Communications. And while there is some debate about whether tests can be effective in choosing careers, they are very useful in helping you figure out your capabilities. And you can use the results to reinforce your strengths or work on the skills you lack.
I've written in my book – Career Rules – about the kinds of tests Aspiring Minds offers, where they test domain knowledge and mindset. Taking such a test not only helps you know what kind of job is suitable for you, it can also actually land you a job! That's because Aspiring Minds partners with corporates such as Infosys, Mindtree, Cognizant, etc. who use student test score data to seek candidates whose profiles match with what they are looking for.
We read about the case study on Amrita Koul and her secret of success. What is your one greatest advice for the job seekers today?
Read. A lot! Read fiction and non-fiction to understand the world. Read career websites and blogs to keep up with workplace trends. Read 'The Test Book', a nifty handbook where authors Mikael Krogerous and Roman Tschappler give you 64 tests that test your aptitude, thinking and personality.
From an IIM (C) degree to a much-celebrated writer, not a very conventional path. What prompted you to follow your passion to write?
It happened by chance. I had always enjoyed reading and writing. But writing as a profession was something I'd never planned on. My first job was at ANZ Grindlays, marketing financial products and then at Tata Exports, marketing bone china tableware. But when my eldest daughter Diviya was born, I decided to take a sabbatical. For the next few years I was at home, with lots of time to read and write and I started doing book reviews for publications like India Today. I enjoyed reading the books and the money I'd get for the review was a motivating factor too! I gradually expanded my writing from book reviews, moving onto beats like art, entertainment, parenting and travel, before I got the opportunity to move into business writing.
You've written for famous publications such as Mint and Forbes and also a book on career rules. Writing on which topic excites you the most?
It's so hard to pick a favourite. I've written on books, on people, on art and on telecom and enjoyed them all. And while books are a subject I've always loved writing on, my current favourite is careers. Because it's about what you do with your life. How more basic than that can you get?
Can we also get a sneak peek into your next project? What's coming next? 
Five million graduates enter the workforce in India every year. Most of them don't know what career they would like. And while there are good career resources, some of which are described in Career Rules, there's a lot more scope for good quality information in this field. 
I am not fully certain yet about the shape my next project will take, but it will be in the demographic of young professionals. The ones who are completing their education and entering the workforce enthusiastically with the desire to make an impact and to earn their livelihood. I'd like to focus on giving them information that's interesting and even entertaining, and that helps them make rewarding career choices.