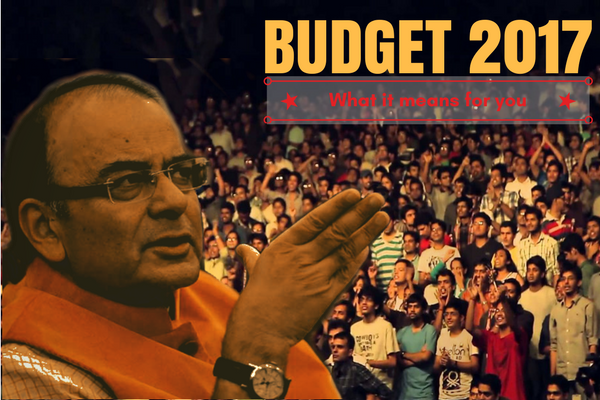 The Budget 2017 is here, nearly a month in advance as compared to the norm and among a silent, watchful populace. The timing is apt: we have dealt with the demonetisation turmoil, see two major states heading to polls. And they're asking – where are the ache din?
Budget 2017 – What it brings
Finance Minister Arun Jaitley's union budget harkens spring's optimism with promises for farmers, the rural population, the youth and poor. He also had plans for better infrastructure, financial sector, digital economy, public service, fiscal management and taxes. Specifically, he promised funds for quality education, skills, virtual learning and creating fresher jobs.
Measures for the youth:
"The education which does not help the common mass of people to equip themselves for the struggle for life… is it worth the name?"
Invoking Vivekananda, he worked on the promise of quality education with measuring learning outcomes in schools, reforms in UGC and college education, platforms with virtual learning and 100 Indian skill centres.
What this means for the youth:
A stronger education system, with a focus on learning outcomes and science education – that's what the Finance minister expects will happen to our schools, if his ideas are approved. There is an innovation fund, for those who come shining through in secondary school.
That's the beginning – college education is next. The government plans to reform the UGC, the decision-making body which recognises and provides accreditation to colleges. "Good quality institutions would be enabled to have greater administrative and academic autonomy." That means that the colleges can take more decisions related to your time there, than waiting for the higher authorities – however, it remains to be seen on what matters.
To ensure that college-goers are ready for the job market, the government has proposed a new self-learning platform with at least 350 online courses. The platform proposes access to virtual classrooms, reading resources, discussion forums and tests and earn academic grades. There is also a plan to link SWAYAM to DTH channels.
Building a wider job market:
"We have a huge demographic advantage", Jaitley said, talking about the rising young population. To work directly with them, he wants to expand the focus of Skill India Mission (July 2015) and Pradhan Mantri Kaushal Kendras. A new program, SANKALP (Skill Acquisition and Knowledge Awareness for Livelihood Promotion programme) and the next phase of STRIVE (Skill Strengthening for Industrial Value Enhancement) have been proposed too, to create better, employment ready candidates through skill learning and skill assessment in vocational training.
There is also good news for all those who hope to get a chance in textiles, leather and footwear (from fashion designers to apparel artists and who knows, maybe also brands who create in-house apparel and footwear).
And for those on a wanderlust too – Five Special Tourism Zones are planned, along with the next edition of the Incredible India Campaign.
Our Take:
"The Government's measure to emphasise on skill acquisition and knowledge awareness by allotting Rs 4000 crore to this sector is commendable", said Himanshu Aggarwal, Co-Founder of Aspiring Minds.
When quizzed about what should be the next step forward and what's really needed from the government, he talked about the need to keep a check on the announced schemes and measures, especially Sankalp.
"What is now vital for the government is to regularly measure and assess these schemes and map their impact with pre and post skill assessments. The initiatives – poised to boost skilling and development sector in the country – must be in line with the supply aspiration and mapped as per the country's talent demand. Only then can we achieve socio-economic balance in the country."