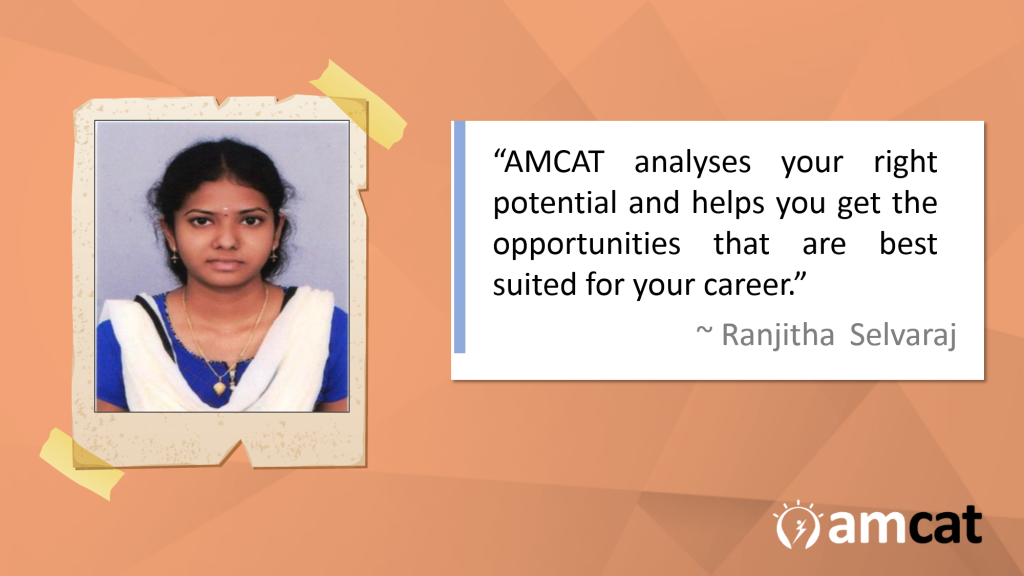 Isn't it tough to get a fresher job in a good company with the right job profile at the beginning of your career?
Meet Ranjitha Selvaraj, a fresher from I.F.E.T. College of Engineering and know how she managed to kick-start her career in the IT industry and nab an opening with Checktronix India Pvt Ltd.
Q: Tell us something about yourself and your career goals.
Hi, My name is Ranjitha. My goal is to secure a position in a reputed company where I can learn new technologies and develop my skills as well as work for the growth of an organization with my expertise.
Q: What difficulties did you face while searching for a job and how did you overcome those difficulties?
I was getting interview calls from the other states and it was quite difficult to travel. Then, I heard about AMCAT, took the test and then later I got interview calls from the companies within Tamilnadu itself. I am thankful to AMCAT for the help and support.
Q: How long did it take to get your 1st interview call after AMCAT?
Ranjitha: Immediately, just after the AMCAT results were declared.

Q: Tell us about your experience post giving the AMCAT test and how AMCAT helped you in getting the job at Checktronix India Pvt Ltd?
AMCAT exam is quite difficult. But once you are prepared, you can crack it easily. Based on my AMCAT score, Checktronix India Pvt Ltd shortlisted my profile and called me for an interview. I cracked all the interview rounds including technical and HR and got the offer from Checktronix India Pvt Ltd.
Q: How many interview calls did you get after taking the AMCAT?

I got a lot of interview calls. At least there were 3 interview calls in a week.
Q: Would you suggest other job seekers to take AMCAT? If yes, why.
Yes. AMCAT analyses your right potential and helps you get the opportunities that are best suited for your career. Take AMCAT as early as possible for the best output.
Q: Would you like to share some tips which can help other job seekers in getting a good job?
Practice your core and communication skills. Be patient and confident. Have full faith in yourself, you will kill it in the interview.
Want to kickstart your career in a right way? Take AMCAT and get a step closer to your dream job!