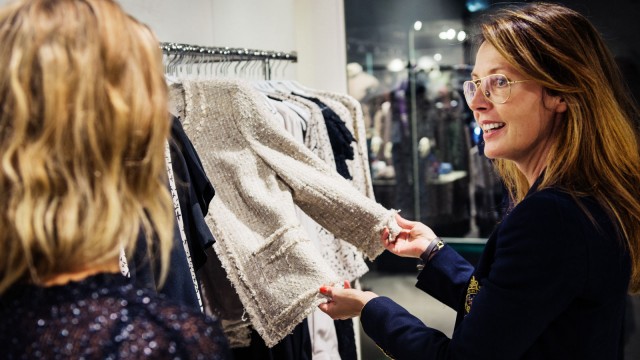 Last week we discussed about the career option for people who love wine. Today we will know all about the career option of a personal shopper.
Shop for a living! Sounds really interesting? Are you the one who is often consulted by friends and family for suggestions regarding their attire and look? If yes, then you can consider taking up the option of a personal shopper. There are busy people who have the budget to buy high end designer brands like Louis Vuitton, Jimmy Choo or an Armani but have no idea how to wear and carry it, that's where you step in and guide them how to look beautiful and confident. Your job may revolve around buying designer or non-designer clothes, accessories, shoes, make-up, home furnishings, gifts, and groceries for your clients.
Who can fit in?
Shop till you drop! Ever heard of it? If you want to become a personal shopper, you need to love shopping. Excellent interpersonal skills, charming personality, good communication skills, patience, enthusiasm and energy are some of the qualities that a personal shopper need to possess. You must have the ability to relate with people coming from different backgrounds, age and other demographics. Most importantly, you must have an amazing fashion sense and the skill to choose the right dress, accessories and shoes that will suit an individual. You must have an eye for detail and interact with your clients regularly to uncover their needs.
What is the job all about?
You need to know everything about the fashion world, update yourself on all the latest trends and designs and know about the market and keep up with the sales and discount. A personal shopper is the one who helps their clients in shopping and also advise them to choose the right outfit and accessories that suits their personality and class. The job also involves understanding the taste of a particular client and shop for them according to their needs. The job also requires styling the candidate in a way that is unique and classy. Personal shoppers must also possess the ability to create a combination of styles depending on the physical attributes of the client in-order to know which style suits them the most. Apart from buying clothing, the job may also include buying accessories, shoes, make-up, home furnishings, gifts and groceries for your clients.
Salary prospects?
The concept of personal shopper is yet to take off in India but has huge opportunities especially in the metros looking at the busy lifestyle of the people. In India, a personal shopper can earn anywhere between INR 10,000 to INR 40,000 depending on your work and experience.
Where can a personal shopper work?
You can work for online stores, boutiques, clothing stores, high end brands, department store, or shopping centre. You can also be hired by busy and rich individuals to shop for them, their employees or family. You can also start your own business or freelance your skills to gain experience.
Advertise
Let the people know about your business. Advertise as much as you can. Put ads in places so that it reaches out to your desired audience. Be the one who is reliable and knowledgeable and you will be known all around.
The downsides of choosing this career option
There is a lot of stress involved in this career path. Irregular working hours and meeting deadlines can be a tough one. You also might need to work on weekends. Taking leaves can also be quite impossible in this domain. Handling such reputed and high end clients also involves a lot of pressure. Since the scope is not that huge in a developing country like India so the job options may not be abundant. You really need to have the passion for fashion and shopping as this field also involves a lot of hard work and unacceptability in the market. Also, after so much of hard work the salary might not be that amazing.
Career Path
Though you do not always require any formal courses and training to become a personal shopper, the only important qualities to excel in this growing field are confidence, style, an eye for fashion and good networking skills, so that you can get the best deals. If you want to excel in this domain you can get into a fashion design program offered by a recognized college. Or, you can enroll in a regular bachelor's program and try to intern under a stylist and learn on the job. Some colleges that you can refer are:
If you love shopping and want to make a living out of it, wait no more. Personal shopper is your calling!
Share with us if you have something to add about personal shoppers.