A career in Data Science is all about statistics, computation and decision making. It is a versatile field. Therefore, it involves various job roles which employ different functions to take an organization to new heights.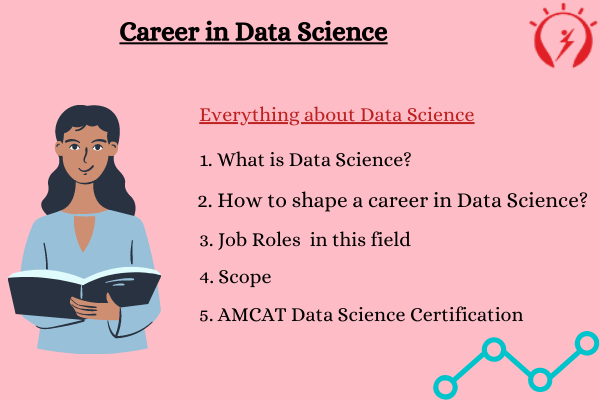 One may wonder as to how to make a career in data science. After all, it is relatively a new field. Many students face difficulty in directing it right. However, it is a manageable trail if strategized well. So here is a detailed guide to making a career in data science. It includes every facet of this domain. Therefore, scroll down below and delve into useful insights into this subject.
What is Data Science?
It is imperative to know about the concept of Data Science before making a career in the field. In simple word, Data science is an efficacious tool to monitor growth. You may wonder how?
Let's understand it from the scratch. There is a humungous amount of information available everywhere around us. One cannot spend all of the energy on utilizing all this raw information to make conclusions.
Therefore, Data Science employs the method of extracting useful details from structured and unstructured information. This technology engages the usage of algorithms, patterns and various methods to make smart decisions.
Henceforth, it forms a crucial estimation of the company's growth.
How to shape a career in Data Science?
One is required to study data science from scratch to start a career in this domain. There are even free data science courses as well. These programs are recommended for those who wish to get some idea about the subject. Aspirants are advised to go for a formal course (online or offline) if they wish to hone the expertise in the field. There are 1 year PGP programs. Students can also go for online certifications to understand the grasp of the course.
Important skills required to make a career in Data Science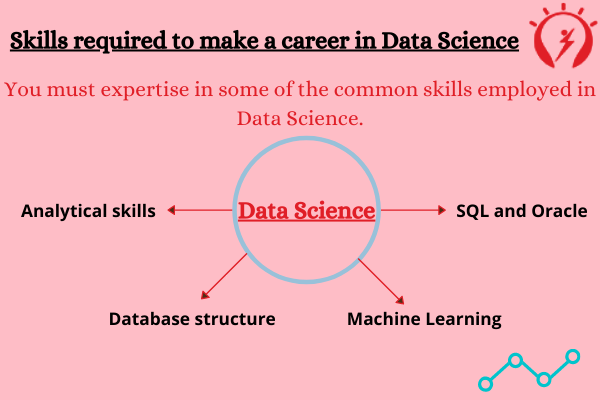 This job role requires various important skills as described below:-
1. Proficiency in technical skills like SQL, R, Python and Oracle,
2. Analytical skills,
3. Data Visualisation,
4. Command over the database structure,
5. Machine Learning,
6. Statistics, etcetera.
Job Roles in Data Science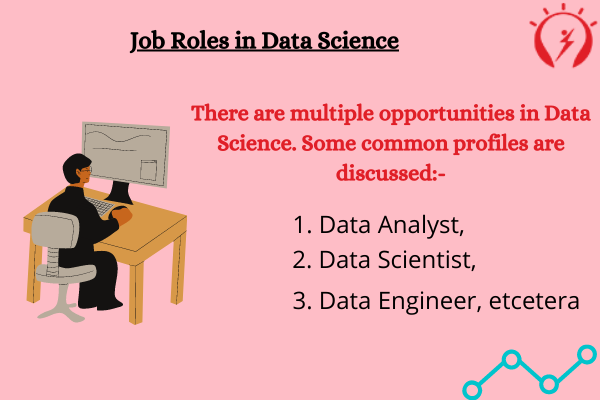 This domain opens a wide range of opportunities to the freshers and experienced candidates as well. Though these responsibilities keep on changing according to the type of company. For instance, a large firm will have a very structured process. On the hand, small firms may offer all these roles to a data professional no matter whatever the expertise. Here is a list of major roles in the data science field.
1. Data Analyst
A data analyst studies raw information and extracts useful insights from it. He/she studies the details of trends and filters various patterns according to the requirements. Henceforth, he/she engineers the data for useful purposes. In this way, a data analyst extrapolates the company's growth. He/she demarcates where the organization can bring about an exponential rise. Therefore, a Data Analyst pivots the decision making of an operation.
2. Data Scientist
This profession involves a lot of computational and mathematical interpretation. A data scientist process the raw data for the company's usage. He/She engages in mathematical, statistical modelling. Also, this job role involves the usage of AI. Therefore, it leans more towards the technical side. In a way, a data scientist creates a conducive data interpretation in the form of algorithms and predictive model to initiate the analysis.
3. Data Engineer
This job profile engages the usage of SQL, DBMS and programming language. Therefore, this is a highly technical job. It involves functioning at a developing stage. Herein, a data scientist maintains the architecture of the system according to various needs. He/she is responsible for setting up the process by using various programing language and technical tools. Henceforth, a data engineer develops the system to enhance the reliability and efficiency of the process.
4. Data Architect
As the name suggests itself, a data architect manoeuvres the data framework. These professionals envision the data model by taking care of the technical specification and other details. Thus, a data architect creates a representation for the database. This includes testing, marinating and creating various systems. They configure the system for smooth functioning.
A career in Data Science- Trends and Scope
According to an IBM report, data science experts' demand will increase by 28% Also, there is a massive need for analyst data after the Coronovirus pandemic outbreak. This event has multiplied the demand for data science. Gartner foresees that by 2023, 33% of the organization will engage in decision intelligence practices to conclude decisions.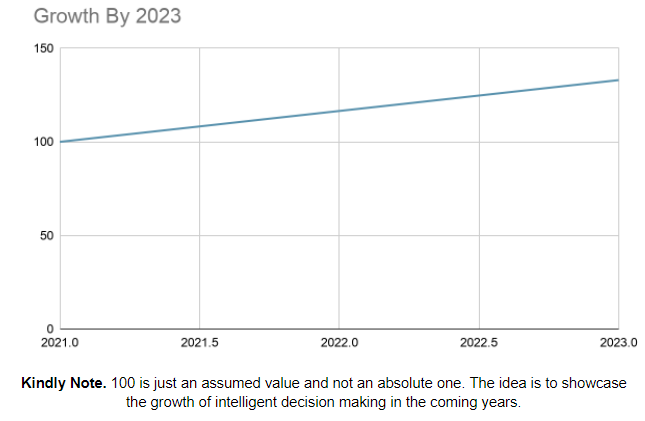 Almost every company in today's time is in dire demand of a data science expert. Most employers face challenges in searching for the potential candidate due to the lack of skilled talent. Therefore, there has been a rise in the demand for experts in this field. The world is advancing digitally today. Therefore, it has been observed that there is a soaring demand for data science. This is why it is also called the new oil of the generation.
AMCAT Test- Opening Multiple Opportunities in Data Science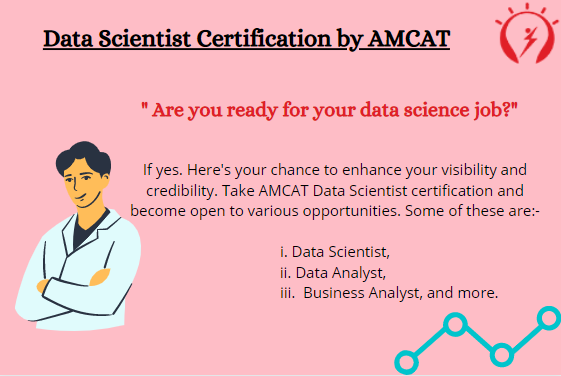 Employability tests are the catalyst to one's professional growth. Many companies rely on such assessment to hire a quality workforce. Therefore, you must always take an assessment to enhance the credibility of your competence. AMCAT test provides Data science-related job assessments. These uniquely created tests provide the score of the desired role.
Here is a quick overview of AMCAT Data Science Assistance:-
This certification attests to your ability to solve complex problems. It is a 20 minutes test that opens multiple job opportunities for you. Have a look below:-
1. Data Scientist,
2. Data Analyst,
3. Analytics Manager,
4. Statistical Analyst,
5. Data Engineer,
6. Analyst Consultant, and more.
Become a Job Magnet by Building an Interesting Profile
The result card can be used to gain visibility over job mediums too. For example, you can upload a picture of your AMCAT data science performance on LinkedIn. Henceforth, you will gain visibility. Thereby, potential recruiters will effortlessly reach you out.
Therefore, a goof AMCAT score will not only let you get a good job in just one way but in various other ways.
Get your Data Science Certification now: Click Here
We hope that you are through with the concept of data science and job opportunities in this domain. Now, make full use of this chance to shape your career for a bright future.
All the best!