"Tell me about yourself?" This question is commonly asked questions during job interviews. It often becomes a hassle for fresh graduates. They are engulfed in mixed feelings overthinking about how to respond to such a question.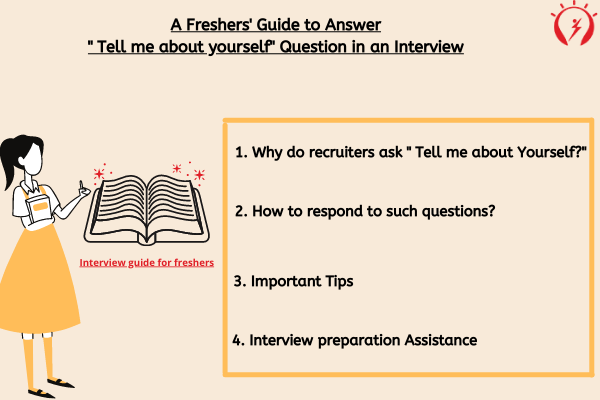 Ironically, students often articulate every happening around the world and studies effectively. However, expressing themselves becomes a real challenge.
Freshers also apprehend if they should talk about their job-related qualities. Since they have no prior experience, they wonder if it would sound irrelevant.
Also, you have only 1.5 or 2 minutes to describe yourself. Therefore, you can't afford to miss out on any specific detail. This implies that you cannot waste a single second in paltering around. Thus, you need to know the length and breadth of this topic to give your best shot in your dream interview.
So here's a detailed insight to resolve all these doubts and bring about clarity on such question during interviews for freshers.
Why do recruiters ask " Tell me about Yourself?"
Firstly, you must understand the motivation behind this question before preparing for the answers to it. The number one reason why interviewers ask such questions is that it brings ease to the interview. This practice somehow brings momentum into the conversation.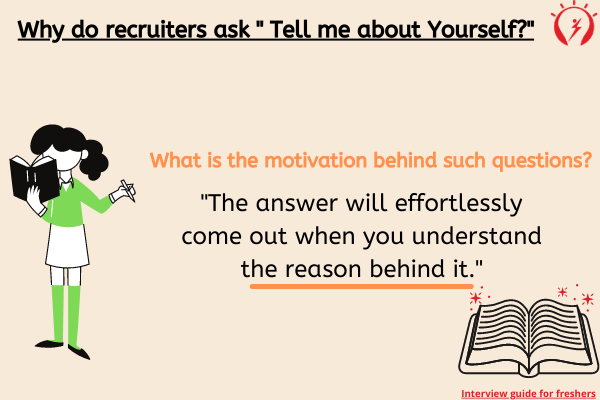 Also, this question lets someone understand your perspective on life. Now, this point indirectly helps the recruiter to gauge if you are a right fit for the role or not. This is because it gives a gist of your fundamental traits and characteristics. For instance, consider that you are appearing for the role of a Sales Manager. Henceforth you quote your answers as follows:-
Answer- " I am an outgoing person and love to interact with new people. I had been lucky to find opportunities to sell my small T-shirt brand in my small community. That experience taught me a lot about business communication. Also, this is the age of being street smart. Therefore I keep exploring my ways out. And that's how you keep explaining the rest of the details." 
Therefore, an employer will understand your qualities related to communication skills and acumen. Thus, in this way, such questions help a lot in knowing your background and your preparedness for the role.
How to respond to "Tell me about Yourself?"
Now that you know the motivation behind this question. Here's how you can respond. Your answer must be brief and focused. It should not look monotonous as if you are deliberately trying to connect it with the job role.
Give a gist about yourself and blend your experiences with the job role.
The structure of the "Tell me about Yourself" answer can be described into three phases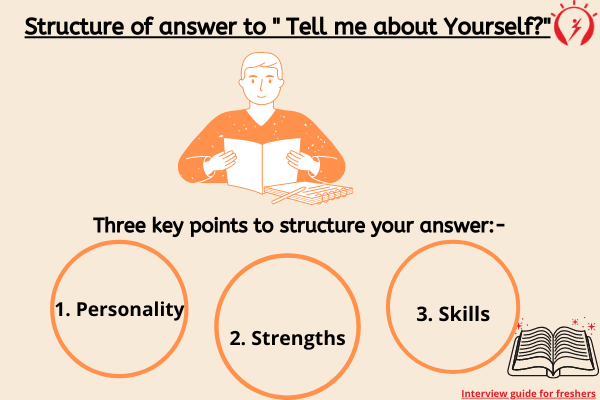 1. Describe Your Personality- Again, this doesn't have to be a long story. Keep it short and crisp.
Sample:-  For instance, you are appearing for the Mass com role. So you can describe your personality as:
"Hi, I am XYZ. I am a creative BJMC graduate from ABC university with an aggregate percentage of YU%"
That's it. For starting this is enough. You can also add one-liners like: Let me walk you through my journey.
2. Talk about your strengths in alignment with the Job Description-
In this step talk about various projects and internships that you participate in. Highlight the outcomes of the process. You can add your participation in college fest and how it helped you build soft skills such as teamwork or communication skills.
3. Blend your skills with the Job Description
Now you'll be required to justify how your skills are in sync with the job description. Add both soft skills and hard skills so that the interviewer gets a clear idea about your personality.
Note. This was just a structure of the answer. You need not take it with a pinch of salt. However, you can always construct a well-thought answer around these points. Add all the relevant details to stand out from the rest.
Similar Questions as Tell me about Yourself?
An examiner may put the same questions in similar formats. Therefore, you should be prepared for different situations instead of dreading them. So here are few essential variations for the "tell me about yourself" question for freshers:-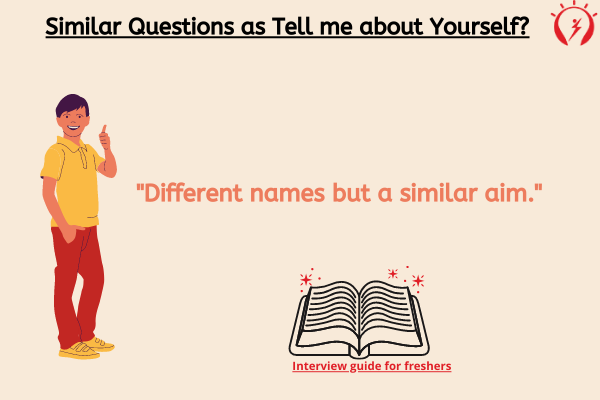 i. How has been your experience so far?
ii. I have seen your resume. It seems you have a keen interest in travelling. Walk me through your journey?
iii. You seemed to have studied science in class 12th. Then why did you choose the Commerce course altogether?
iv. After four years of your BTech course, why are you choosing a completely different field as your professional choice?
In this way, an interviewer tries to hook one question after the other.
"Tell me about Yourself?"– Important Tips
Here are some crucial tips you can incorporate while answering to "Tell me about yourself?'" questions. It may vary according to the role you have chosen:-
1. Embrace authenticity and then link your response with the role you have applied for
i. There is no need to sugarcoat your answers. Employers have experienced professionals and can see through exaggerated response. Therefore, stay honest while answering.
2. Always mind your tone while answering the question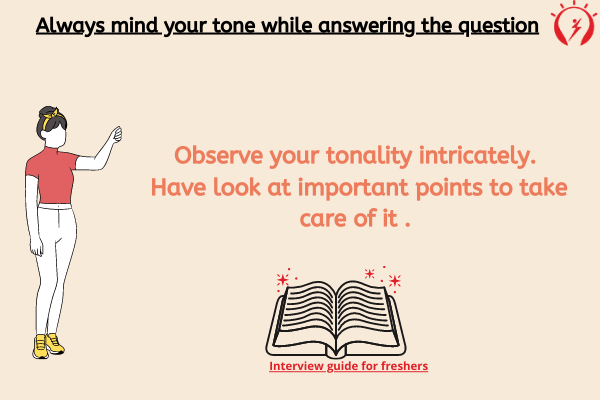 i. Do not let it governed by either overconfidence or frivolousness, irrespective of how comfortable you have become with the interviewer,
ii. Always maintain a formal tone.
iii. Avoid using sentences in your native language. Sometimes students tend to answer the question in their mother tongue. It may or may not leave a bad impression. But the idea is that you have to present your best short. Therefore, pay attention to detail.
3. Don't highlight the job role blatantly
i. You will relate your journey with the job role. However, things may backfire if make you evident.
ii. The idea is to effortlessly blend the job description points with your journey. Thus, you can hook one experience to another and bring about the required qualities implicitly.
For instance, consider the following samples for Job application for mechanical engineer
Can you spot the difference between these two responses for the same situation:-
Case 1: 
Answer 1: Let me walk you through my journey. I had completed my mechanical engineering course last year itself. I always loved machines. It is a passion. Mechanical engineering subjects helped me polish my concept. Therefore, I happened to apply for this job. 
Case 2: 
Answer 2:Let me walk you through my journey so far. I am an extrovert person and just aspire to make the best out of every situation I witness. As a part-time hustle, I would explore different cities during my college. This experience enriched my inquisitiveness towards machines. How does an aeroplane fly or how does a train functions? What about cars? This curiosity helped me lead a fruitful college life. It was full of learning and imagination. 
Case 1 was full of straightforward answers. On the other hand, case 2 was an attempt to play one's strength with the very purpose instead of being too blatant or just beating around the bush.
Note. Any of the cases should not be taken as the ultimate answer. Kindly make changes according to your requirements.
4. Don't elongate the answers with extra details. Stay focused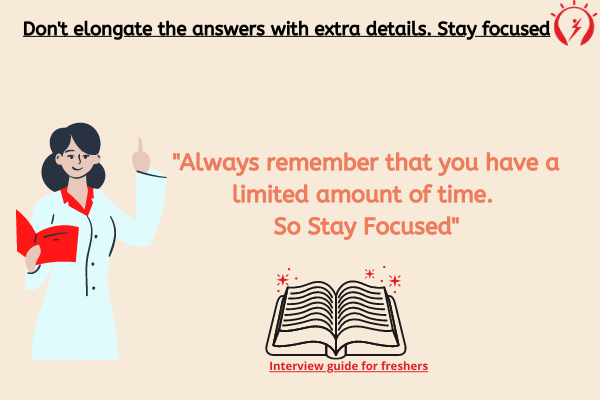 There are instances wherein students tend to revolve around minute details and stretch more than required. You can always talk about intricacies too but only until it is playing for you.
5. Don't reiterate your resume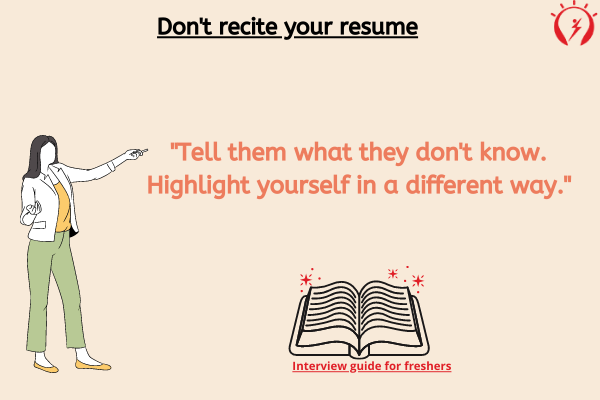 There is no need to recite your compelling resume all over again. Since the interviewer already has your documents in front of him/her. Therefore, there is no need to reiterate the same story. You will be required to talk about qualification and more. But obviously in a different way. So ensure that you avoid such mistakes.
6. Talk about projects and internships if done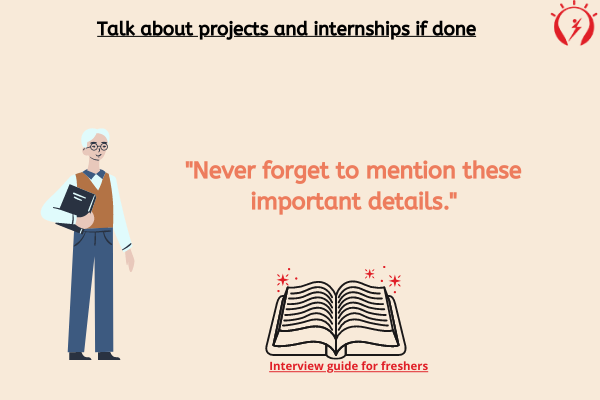 Freshers may not have prior experience. However, they may have active participation during graduation. While responding to "Tell me about yourself?" questions, freshers can distinctly add their active participation during college days.
Also, no interviewer expects you to have complete expertise over the role. How can you forget about mentioning that freelance project? Today, there are endless options to enhance one's skills during college. Freelancing projects take your profile to a new height. Therefore, talk about that as well.
But remember you only have a limited time. So don't beat around the bush. Stay to the point. If the employer wishes to know something about you, he/she'll let you know.
Gear up for your Dream Interview Preparation
Since freshers have no prior interview experience. Therefore they all the more require expert assistance. Mock interviews provide them with space and an environment to simulate the actual job interview. AMCAT Mock AI is the modern-day solution to prepare for an interview.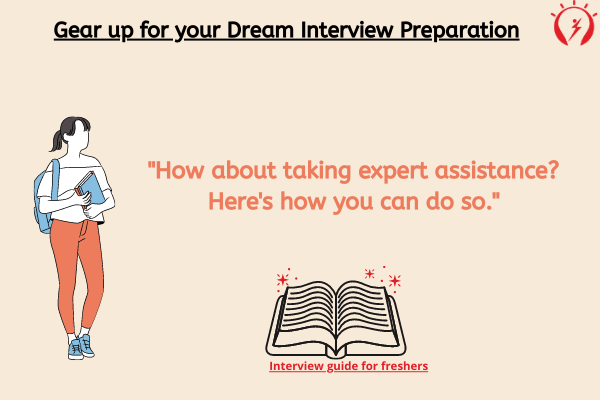 "To err is human." However, machines don't. They are an efficient way to produce impressive results in a short period. Therefore, they save energy and also produce correct results.
AMCAT Mock AI will monitor your body language and response very closely. It will provide quick assessments so that you can work upon your strengths and weakness. Apart from detailed feedback, aspirants receive expert guidance as well. Therefore it contributes to holistic preparation towards the respective job interview.
You can take a free trial/buy of Mock AI: Click Here
Now that you are fully prepared, ace your dream job.
All the best!