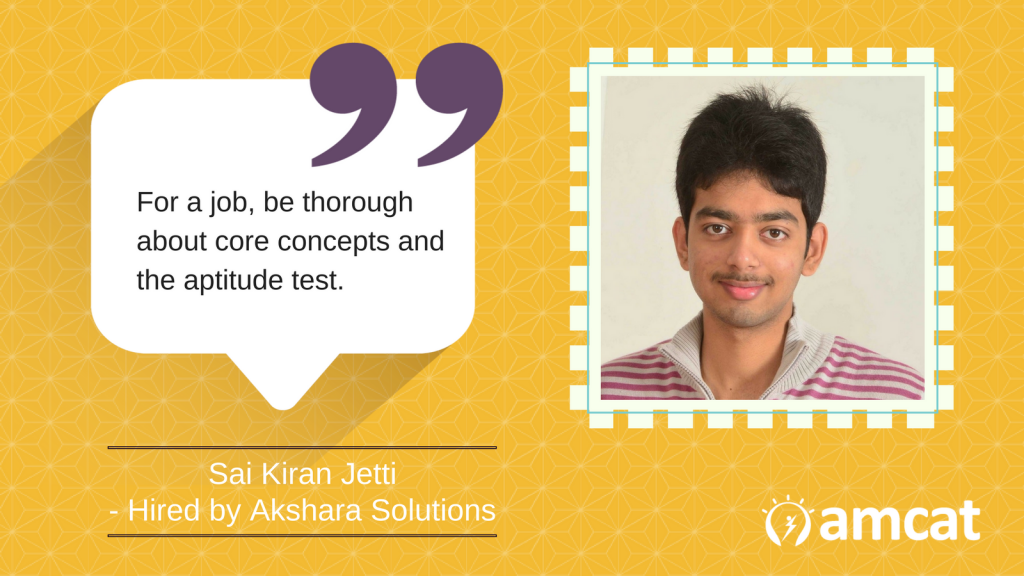 "I want to make a career in software development", begins Sai Kiran Jetti, a 2016 graduate from Hyderabad. Calling himself a 'technology exploring' person, Jetti knew he had to move ahead to a decent IT job in Hyderabad, if he wanted to achieve his career goal. And that's why he took an aptitude test.
Taking the AMCAT Test:
Assessment aptitude tests, like the AMCAT test, check domain knowledge, communication, logical and quantitative quotients of the candidate – giving them a detailed analysis of their strength and weaknesses. The AMCAT test adds personality traits to this set and measures suitability for the domain in question. Details which Jetti knew, when he decided to take the AMCAT test.
"I took the AMCAT test because it was India's largest employability test and the best source for jobs."
Was it helpful?
"The test was quite challenging. It was really testing the knowledge that a fresher should have to get a job", he said, giving light to the undercurrent that most aspirants looking for fresher jobs are not market-ready and so, unemployable.
It took two weeks for him to receive his first interview call. And then came the one in question, from Akshara Solutions. Based on his AMCAT test scores, his profile sailed through to the company, who shortlisted him and called him in for the interview for a frontend web developer.
How was the interview process at the company? What helped you through it?
"The interview was really good. I had prepared for the interview based on the role offered."
Know Your Aptitude Tests:
So,  as he outlines his journey, Jetti stresses again on why good preparation and a decent performance on an aptitude test has put him on the career path which he aspires for. Thanking the AMCAT he lauded it for bringing the big companies directly to the freshers.
We asked him if he also had any words of wisdom for those who were also preparing for jobs after graduation and/or the AMCAT test.
He said, "Just be thorough in your core concepts and basic aptitude."
Have questions related to this AMCAT testimonial? Or are you considering scheduling the AMCAT test – raise your thoughts in the comments section below.