Keen on banking jobs, as your first foray into the career space, after your graduation in 2017? Then we have news for you – the Axis Bank Young Bankers Program is accepting applications over the span of next five days for their company-specific entry-level program for the year 2017.
This is the tenth batch of the banking program and the second batch for the year 2017. (You can check the details for the previous batch of banking students here).
The program begins from October 10/13, 2017.
Axis Bank Young Bankers Program:
While Bank PO is still a respectable way to begin a career in banking, especially for government banks, most corporate financial institutions have come up with their own training industries – ICICI Bank, HDFC Bank and a host of others. The Axis Bank program is one such program.
A residential banking career program, the Axis Bank Young Bankers Program helps with domain expertise and industry-specific knowledge, bringing students up-to-speed with their postgraduate diploma in Banking Services vis a vis a conventional MBA program. Enroll to learn at either the Manipal Global Education Campus in Bangalore or the Amity Global Business School in Noida.
Course and curriculum: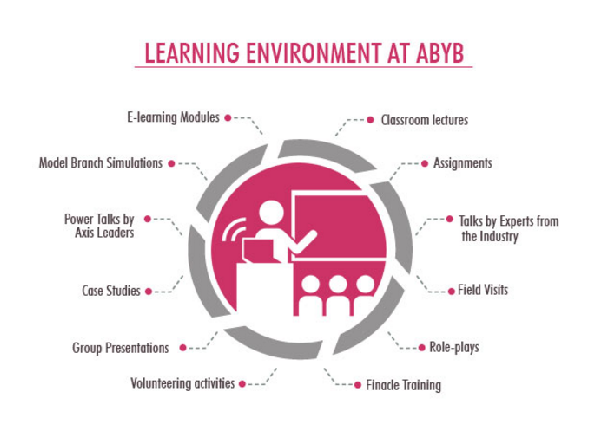 Students who enroll in the course can expect to gain theoretical knowledge around banking, business communication, managerial economics, business mathematics, accounting, receipts and payment systems, financial planning, foreign exchange, credit risk management, recovery management and business analytics. These are structured into three trimesters, followed by a fourth in internship and project work.
The company claims that students who go through the program would gain a command on banking concepts. They could learn industry trends, business communication and all that goes in a banking job.
Who is eligible to apply for Young Bankers Program?
Graduates, who hold 55% marks in any stream can apply. An age restriction (between 21 to 25 years of age) also applies. Post-graduates and relatives of Axis Bank employees are not eligible.
Candidates are selected through a two-stage selection process – once through an online aptitude test and the interview. In fact, students who have given the AMCAT test and hold a valid score can apply and be invited for the personal interview.
Benefits of the Young Bankers Program
Students who complete the Axis Bank Young Bankers program gain the Post Graduate Diploma in Banking Services and will join the bank as a Customer Service Officers, Sales Officers, Operations executives and Compliance officers – with a salary of Rs 4.12 lakh.
Keen on following up? Then head to our collaboration with Axis Bank's Young Bankers Program and work towards a banking career.