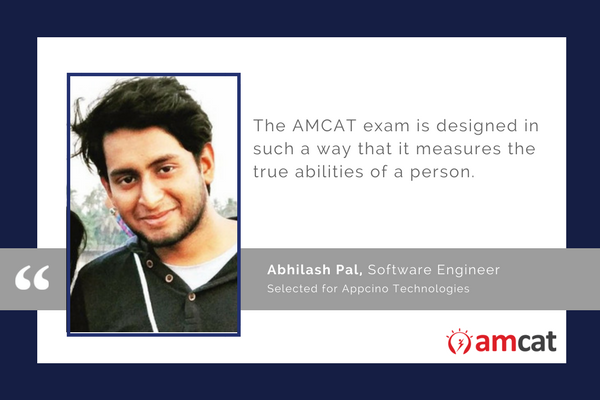 Students who aspire for fresher jobs these days are increasingly aware of the fact that they need an extra advantage to gain a decent profile in a good company. In our recent connect with software engineer Abhilash Pal, we found out how he gained this extra advantage – and land a job.
After completing his graduation in Electronics and Communication from Amity University, UP, Pal struggled to find a job.
"Initially, I faced difficulties while searching for jobs and giving interviews."
He decided to opt for a self-analysis for his skills. And chose the AMCAT test for this skill assessment. "Basically, I took the AMCAT Test to judge my analytical skills along with technical skills. It helped and I got a lot of opportunities in different companies."
The AMCAT Test Experience:
Calling it a good experience, Abhilash commented on how preparing for the AMCAT Test helped him in enhancing his abilities, especially his technical skills. Specifically, those which were required by companies offering IT jobs.
"The AMCAT exam is designed in such a way that it measures the true abilities of a person." And that helped him realise and then work on enhancing his skill set.
Impact of the AMCAT Test:
In contrast with his earlier job search experience, Abhilash claims that he received several interview calls after giving the AMCAT Test. "I got my first call within a month after the test and am still getting many", he added.
The call from Appchino Technologies in question was the one that really clicked for him. So, we asked Pal about the hiring process there and how he landed a job as a software engineer with the company.
"Firstly, the company took a technical cum coding test. Then second, third and fourth rounds were technical interview rounds."
Learnings from the AMCAT Test
From his overall job search experience and his AMCAT trajectory, Abhilash had a few things to share with other job seekers. "Don't take too must stress. Be patient and never hesitate to ask any questions in front of your trainers or superiors."
In the end, he recommends the AMCAT Test, citing it for a cool self-analysis, preparation and leverage to good opportunities. In his words, "The AMCAT provides you lots of decent opportunities."
Congratulations Abhilash, for your first job as a software engineer, courtesy the AMCAT Test. We hope your experience helps others to plan their own individual career paths accordingly.
If you like this story and wish to read more, check our Achievers Diaries. And consider an AMCAT Test for yourself.