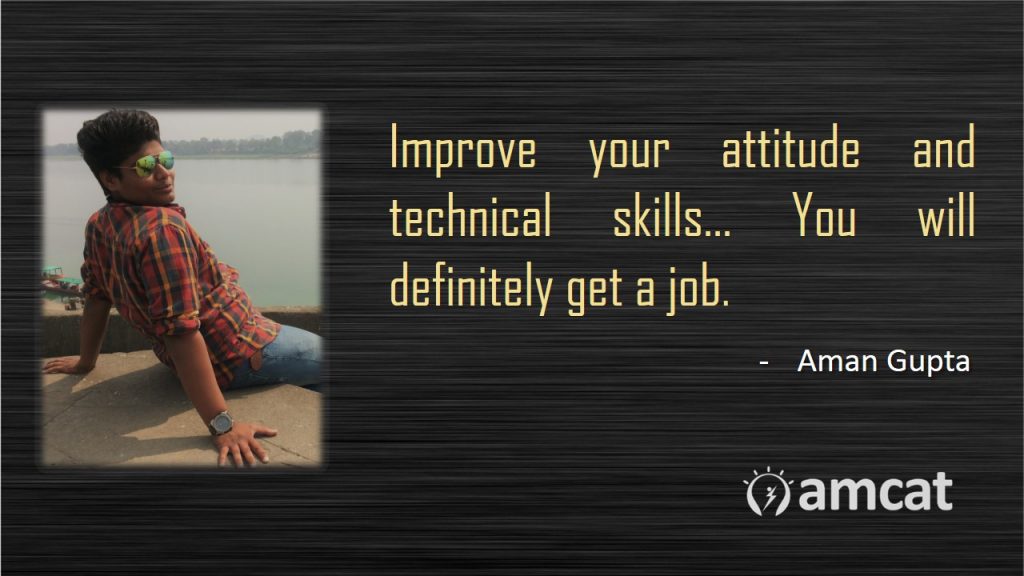 Aman Gupta, hired by Accenture, explains his journey with the AMCAT test.As a fresher, aspiring for fresher jobs, what is it that you expect from the opportunity of your dreams? Learning, good pay and the best use of your abilities. Right? That's what Aman Gupta, from the Lakshmi Narain Institute of Technology, expected too. This is how he found it, courtesy the AMCAT test.
Approaching the AMCAT test
A graduate engineer in Computer Science, he was looking for a job profile in a company which could take care of his financial needs. The problem?
"Lack of opportunities was the major difficulty."
And then the AMCAT happened.
Benefits from the AMCAT test
When we asked him, how long it took for him to receive his first interview call after he got his test results, this is what he said. "It took around 15 days after taking AMCAT. There were many interview calls (around once a week), including many calls for tech support, content written, software testing, software development, etc."
And while the calls were the most direct benefit that Gupta drew from his experience with the AMCAT test, it wasn't the only one. "The AMCAT test helped me to improve my overall knowledge", he wrote in the feedback interview, which he graciously sent back to us. "It also played a huge role for getting me placed in Accenture."
Would they suggest it to others? "Yes, because it gives you ample opportunities."
Career Hacks to Remember
Patiently waiting for the right opportunity, clearing all hurdles and finally making it into your fresher job opportunity provides you with a slice of wisdom on life, work and how to best crack a golden chance. And that's what we saw with Aman as well. This is the snippet which he had to share with us –
"Please never quit. Instead, improve your (overall) attitude and technical skills – You will definitely get a job."
Congratulations, Aman – you found a good opportunity to mark your career graph. And for those who are looking for their own – keep calm, apply and consider relevant job opportunities from our portal. We would recommend reading more stories of those who cleared the AMCAT test and were able to find their dream opportunities.
And if you've decided that this the path for you – you can schedule an AMCAT test here.