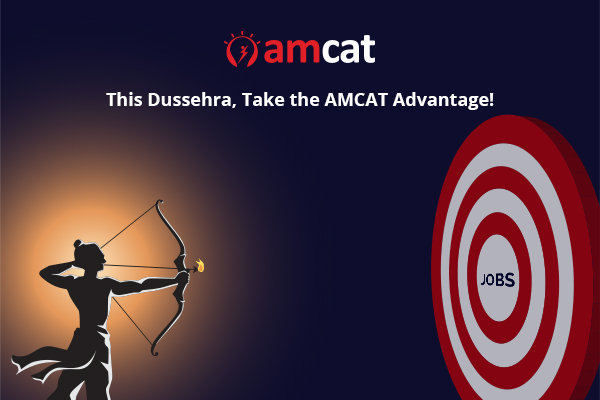 Recent graduates and students who are preparing for their own job search journeys, we understand that the road you face is not an easy one. It requires acute preparation, a smart strategy and a diligent approach towards cracking a job right after your graduation. It is the AMCAT Dussehra Offer!
And this Dussehra, even as most of the students and job aspirants take a brief reprieve – aiming for a decent break over the long, festive weekend, is when you can up your game. How? By opting for the AMCAT Test, even scheduling one over this period.
And that means you can also book the test, using this offer now, scheduled for a later date when you're ready for it.
The AMCAT Dussehra Offer:
The AMCAT Test, a skill assessment designed to help students understand their own merit, strengths and weaknesses – also links them to matched, relevant, graduate job opportunities. The students who choose to give the test can also use their AMCAT scores to then apply for exclusive jobs on the site's job board.
As a limited time offering, students who choose to give the AMCAT Test or purchase a test over the long weekend can gain a special discount on the test price. How? By simply using the AMCAT discount coupon DSH150.
Purchasing the test over the weekend bring the following benefits:
Rs 150 discount on booking the AMCAT Test
Uninterrupted access to all premium jobs for one year
What are you waiting for? Hurry and schedule an AMCAT this Dussehra and make your mark towards corporate stardom.