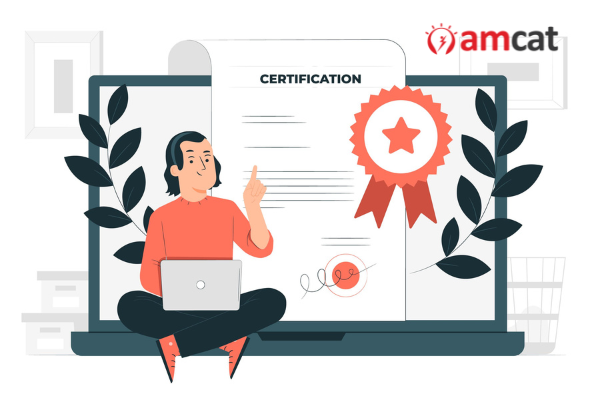 If you want to stay ahead of the competition in the current era of technological advancements, it is very important to work on your technical abilities. With competencies being a key component of career success, AMCAT certifications are emerging as shining jewels in professional development. Let's talk more in detail about these certifications and take a look at why they are important.
You must be thinking, why invest in online certification courses?
Online certification courses have become an important way to improve skills in today's fast-moving digital era that we are into. Let us tell you that AMCAT stands out among these certifications, matching up perfectly with the ever-changing list of IT certification courses.
AMCAT – Aspiring Minds Computer Adaptive Test, is not just a test; This is a comprehensive assessment of your technical skills. AMCAT helps in assessing your skills in areas such as programming, database management, and logical reasoning, not just AMCAT also provides a comprehensive feedback report of your strengths and areas for improvement.
Why go for AMCAT certifications?
Industry-related skills: AMCAT certifications focus on skills that are in high demand in the industry. Right from coding to problem-solving, these are the foundation for a successful career in the technical world.
Benchmarking your Skills
AMCAT assessment provides a benchmark for your skills, allowing you to assess where you stand as compared to industry standards.
Tailored Job Opportunities: AMCAT-certified individuals gain access to a wide array of job opportunities specifically looking for candidates with demonstrated technical abilities.
Benefits Beyond Certification
AMCAT doesn't stop at certification; it also offers a bridge to connect you with prospective employers. Once you're certified, your profile becomes part of AMCAT's database, visible to numerous recruiters seeking candidates with verified technical skills.
Seizing the Future with AMCAT
In a world where continuous learning is the norm, AMCAT certification stands as a beacon of opportunity.
In a world where continuous learning is the norm, AMCAT certifications stand as a beacon of opportunity.
AMCAT certification is not just a mere tick on your skillset checklist – it's a testament to your dedication to growth and excellence. By now you already know that AMCAT offers the most valuable online certifications you can take, with the ability to improve your technical skills, it open new doors, and demonstrate your abilities to future employers. Don't just settle for skill development; unlock the doors to a world of career possibilities with AMCAT.