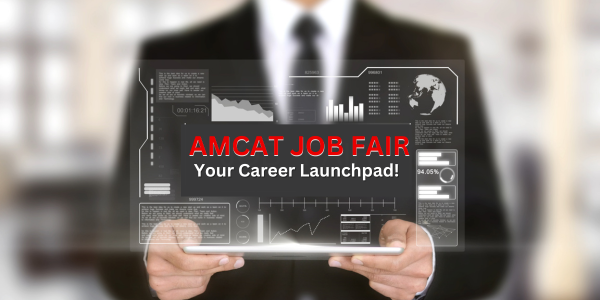 Job fairs have always been a valuable platform for job seekers, providing a platform to connect with potential employers and explore a multitude of opportunities. In this blog, we'll delve into the numerous benefits of participating in a job fair and how AMCAT's upcoming virtual job fair will take this experience to new heights for a job seeker. With industry-specific 200+ profiles that too all under one umbrella, AMCAT's job fair is an exceptional opportunity for graduates from every field. Get ready to seize the moment from the comfort of your own home, as all jobs will be live between June 23-25. Don't miss out—register now and take the AMCAT assessment before June 15 to embark on your career journey!
Without any wait, let us take you straight to the benefits of AMCAT's job fair:
A Diverse Range of Opportunities:
AMCAT's virtual job fair opens doors for a candidate to a vast array of 200+ job profiles, catering to the unique aspirations and skill sets of different candidates from various backgrounds. Whether you're an aspiring engineer, a budding marketer, or a finance enthusiast, this event offers a diverse range of opportunities tailored to your field of interest.
Leading Companies:
AMCAT's virtual job fair is proud of the fact that top multinational corporations are participating in the event. These industry giants are known for their exemplary growth prospects, global presence, and rewarding career paths. By participating in this event, you'll get direct access to recruiters from these esteemed organizations, which will increase your chances of securing a desirable position.
Industry-Specific Jobs:
AMCAT understands the importance of industry-specific opportunities. By participating in this virtual job fair, you'll find a wide range of roles tailored to specific sectors such as IT, finance, marketing, engineering, and more. This targeted approach ensures that you can explore opportunities aligned with your expertise and interests, enabling you to make informed career choices.
Register for Job Fair | Your Career Launchpad
Lucrative Packages:
One of the key attractions of AMCAT's virtual job fair is the potential for attractive compensation. With a maximum package of up to 20 LPA and an average package of 7 LPA, the participating companies will showcase their commitment to offering competitive remuneration. These lucrative packages serve as evidence of the quality of opportunities available through this event.
Virtual Convenience:
The virtual nature of AMCAT's job fair ensures a hassle-free and convenient experience for participants. You can explore job opportunities, interact with recruiters, and attend interviews—all from the comfort of your home. This eliminates the need for travel, saves time, and allows you to focus on making the most of the event without any geographical constraints.
Streamlined Process:
AMCAT's virtual job fair simplifies the job search process by providing a user-friendly platform. You can navigate through the available job profiles, submit applications, and engage in virtual interviews seamlessly. This streamlined process ensures a smooth and efficient experience, maximizing your chances of success.
This virtual job fair offers an unparalleled opportunity to unlock your career potential. Do not miss this event is not to be missed. Register now and take the AMCAT assessment before June 15 to position yourself for success. Mark your calendars for June 23-25, as all the live job opportunities await you. Embrace the possibilities and take your career to new heights with AMCAT's virtual job fair! Don't wait and register now!