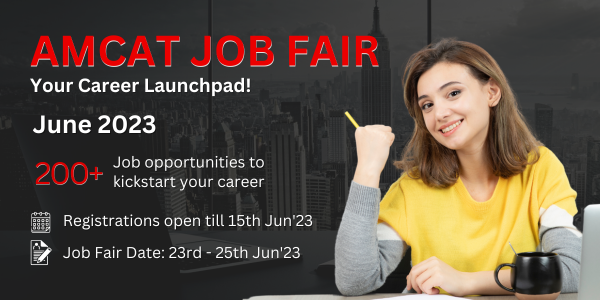 Are you ready to embark on an exciting career journey? Look no further as AMCAT, India's one of biggest virtual Job Fair, is here to connect job seekers with top employers. With multiple employers will fulfil their hiring needs; this event promises a plethora of opportunities for both tech and non-tech graduates. In this blog post, we will delve into the details of this upcoming event and provide you with essential tips to maximize your success.
Unveiling the AMCAT Job Fair:
AMCAT Job Fair will stand as a premier platform for job seekers where they will get a chance to engage with employers. Featuring top multinational corporations from Fortune 500 list of 2022, this virtual fair will bring together industry leaders and promising talent. With over 200+ job profiles available, encompassing both technical and non-technical domains, there will be something for every aspiring professional.
Unmatched Salary Packages:
When it comes to remuneration, AMCAT Job Fair always sets the bar high. The average salary package on offer is going to be 7 LPA, ensuring competitive compensation for successful candidates. Furthermore, the highest salary package is going to reach a remarkable 20 LPA, that will present an opportunity for individuals to secure a lucrative career path.
Preparing for Success:
In order to make the most of this career-defining event, it's crucial to prepare in advance. Here are five key steps you should take to set yourself up for success:
Register ahead of time: Secure your spot by registering for the AMCAT Job Fair before the deadline. This ensures you don't miss out on valuable opportunities.
Prepare for the AMCAT test: Enhance your chances of success by taking the AMCAT test before 15th June. This assessment serves as a valuable tool for showcasing your skills and capabilities to potential employers.
Be technologically sound: Prior to the job fair, test your internet connection, audio, and video settings to ensure smooth communication during virtual interactions.
Attend from a distraction-free environment: Create a quiet and dedicated space where you can comfortably engage with employers. Minimize distractions and ensure you have a professional backdrop for video chats.
Demonstrate strong body language: During video chats, maintain strong body language to leave a positive and lasting impression. Dress professionally, make eye contact, and showcase confidence and enthusiasm.
The AMCAT Job Fair 2023 presents an unparalleled opportunity for job seekers to connect with leading employers, explore diverse job profiles, and secure promising career prospects. By registering in advance, preparing for the AMCAT test, ensuring technology readiness, creating a distraction-free environment, and showcasing strong body language, you'll be well-equipped to make the most of this virtual career fair. Mark your calendars, seize this chance, and take your career to new heights!
Register for Job Fair | Your Career Launchpad