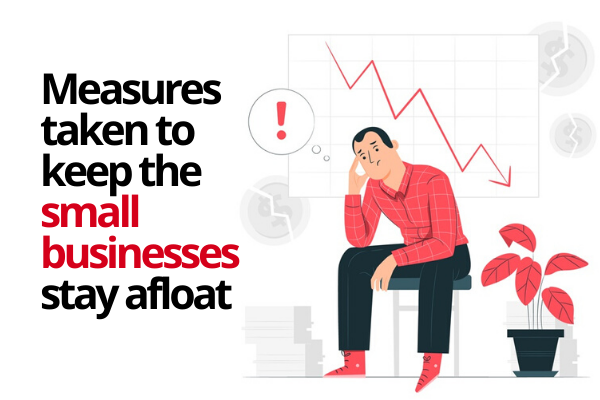 The COVID-19 pandemic has negatively impacted not only one but all the segments of the economy. However, the worst-hit sector is the Medium, Small and Micro Enterprises (MSMEs). The biggest issue with this particular sector is that most of them are not registered. Being part of the informal network, they don't have to pay taxes or keep up with any law. However, during the time of crisis, it restricted the government's ability to help them.
Moreover, most of the workers in MSMEs are migrant workers or daily wage workers. Thousands and thousands of these workers are now unemployed without any means to earn their livelihood.  That is why MSMEs have been the worst hit segment of the economy during the COVID-19 forced lockdown. However, varies steps have been taken by both the government and the enterprises to keep small businesses stay0++ afloat during such trying times.
Government Relief Packages
The small businesses contribute nearly one-quarter of India's total economy and houses more than 500 million workers. According to the reports, the first and the second relief package announced by the government primarily focused on the MSMEs sector of the economy. The second relief package is worth approximately Rs 1 lakh crore ($13 billion).
Steps Taken By RBI
Due to the MSME sector's structural constraint, the impact of RBI pumping money into this segment of the economy has been limited. However, to help the small businesses weather this COVID-19 storm, the government might provide tax relief, refunds and provide liquidity to the rural part of the country in order to boost demand for MSMEs products.
Loan And Credit Guarantees
Usually, the loan sanctioned to MSMEs are given against collateral (property). The reason being that in the MSME sector there isn't a robust flow of cash analysis available. Moreover, during the times of crisis, the value of the property falls and that inhibits the extension of new loans.
So, to make it easier for the MSME sector to get a loan, the government can act as a credit guarantee. It will assure the band that the government will pay the loan in case the MSME sector is unable.
These are some of the initiatives taken by the government and financial bodies to keep small businesses afloat. Although the present might look gloomy, you need to start looking for the future beyond the pandemic and continue your job search. You can give the AMCAT exam from home and start your search for your dream at home.
Best of luck!