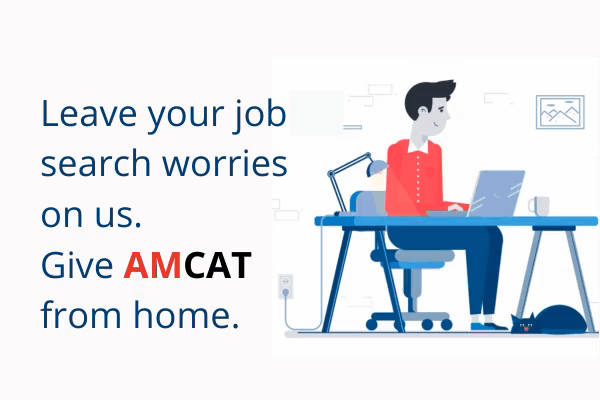 We hope that you are taking all the necessary measures to stay safe during this pandemic and staying at home. And since you are doing your bit, we decided to do something special for you and not let COVID-19 come between you and your job search. That is why, we are now bringing AMCAT to the safe confines of your home.
We are aware of how important your career is to you and these trying times don't need to hamper your growth. So, now you don't have to jeopardise your health and well-being to find success.
Read on to know how you can continue to move up the career ladder and what are the steps to book AMCAT from home.
Why AMCAT
AMCAT is a smart assessment exam that bridges the gap between recruiters and job seekers. Over 450 companies rely on the AMCAT assessment every year to find the perfect candidate.
From IT jobs to non-IT jobs, AMCAT has everything for everyone. Your good AMCAT score can really open up a horde of opportunities for you. Don't believe us? Read these testimonials.
However, unlike most exams, you can now give the AMCAT exam from home. We took this step keeping the whole Corona Virus fear in mind and your safety as a priority.
Step-By-Step To Schedule AMCAT Exam
To book AMCAT from home, you need to follow these steps.
First and foremost, go to the MyAMCAT home page and fill in all the asked details correctly. Re-check the details filled by you before submitting.
Because your AMCAT test centre is your home, you don't need to choose the city of the test centre. You only need to choose the date and time for the AMCAT exam.
Make the payment (apply discount coupons) and start preparing for the AMCAT exam.
To start with your AMCAT exam at home, you should keep these steps in mind.
Log into your AMCAT dashboard with your credentials.
Click on the 'Start test' button to start your online test. Make sure that you are on time because the exam link will only be activated during the scheduled time.
Choose your modules as per your interest and fill all the asked details and then proceed to the test.
You will get your test result after 48 hours of giving the test.
Start applying to job opportunities on the AMCAT job portal with your AMCAT score.
Conclusion
Staying at home doesn't mean your career needs to suffer or you don't have a choice anymore. In fact, this is a great opportunity for you to prepare for the AMCAT exam and the upcoming interviews and come out of the quarantine ready to take on the jobs' world.
SAY NO TO COVID, SAY YES TO A SUCCESSFUL JOB SEARCH
PS: If you have any questions regarding the AMCAT exam from home, feel free to ask them in the comments section below.
Stay safe! Stay successful!